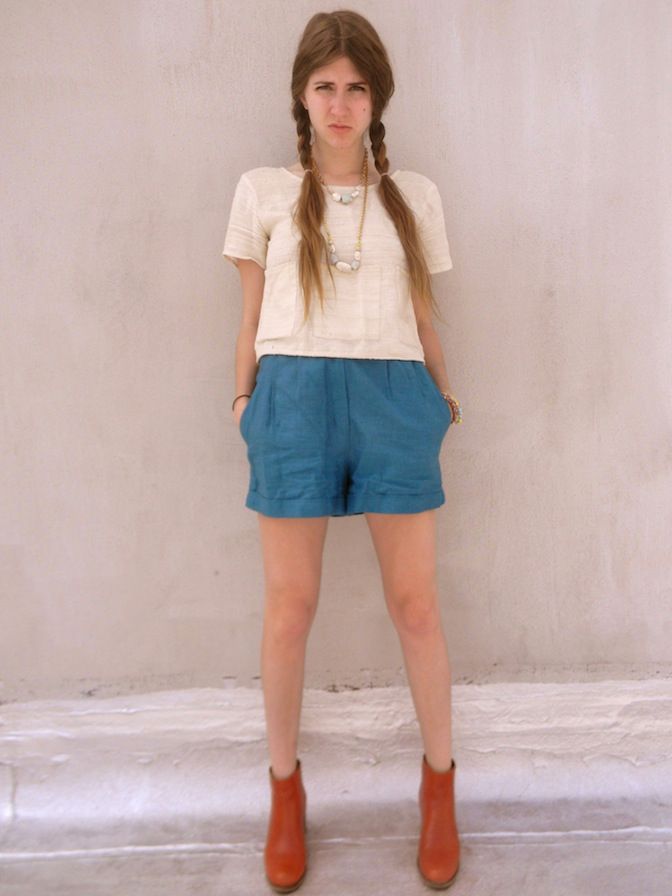 First off, please excuse the look of pain on my face. They just repainted my roof top silver and it was terribly blinding up there while trying to take these photos. I think I'm gonna have to wear shades from here on out when I go up there now! Today I am breaking out my full on
Samantha Pleet
outfit from head to toe! Sam and her husband Patrick were sweet enough to outfit me and a few of our other friends in some of there Spring collection! Though I was totally taken by so much of the collection, I went with this top and shorts. As y'all know I'm a sucker for crop tops and all the pockets on it are such a clever idea.
Samantha also has been working with
Wolverine
and has created a bunch of beautifully designed boots for their
1000 Mile Collection
. I was lucky enough to receive a pair and let me tell ya, choosing was very hard! But in the end I went with the Arc boot in marmelade. The color is fantastic and I don't have anything in this particular style. I see these being a staple for a long long time, and so far they are wearing perfectly!
I am also wearing some pretty cool jewelry that y'all should check out. A super sweet customer by the name of Natalie Jacob who is a regular shopper at Beacon's Closet sometimes sells in the jewelry she makes. Her line us called Etymology and you can find it on her Etsy shop. Her prices are great and she uses some really beautiful colors and components in her stuff. The two necklaces and two middle bracelets in the photo below are made by her. I wear the bracelets every damn day, I love them so much.