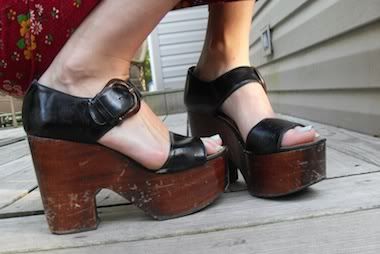 let me start at the very beginning...
i have been craving some real kick ass 70s style platforms for a while now. around here, its not something you come across at your local thrift store all too often. however, when thrifting i always make sure to check out the shoe section...as i check out every other section.. just to see what i may stumble across that day. always with some platforms on my mind. maybe ill turned the corner, and sitting there will be some wonderful wonderful things to strap onto my feel for less than $20. of and its a thursday so practically everything is half off, and so are they. wow what luck! what an amazing find! so fuckin lucky!!!!!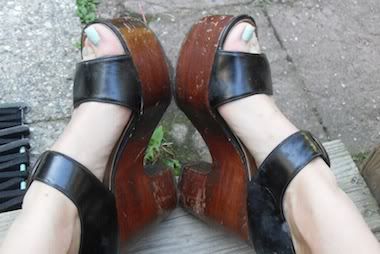 but im just describing a dream to you. this has not happened for me. nor do i expect if to. now, like i have said time and time again. i am cheep. i am the definition of a thrifty shopper. i dont know why, i dont really know where it comes from..but i hate spending a lot of money, let alone a lot of money on one thing. so i shop at thrift stores. 1. because i love vintage, and i can find it here. 2. the hunt and the search and going shopping without really expecting what to find, not knowing what ill see. and how so many times ill end up in line at the register with something i never expected to to get, didnt even realize i was into the look. but its just what was there. ya know? theres no trend, theres no stock. you dont go looking for your size. it finds you...
but im getting off track here.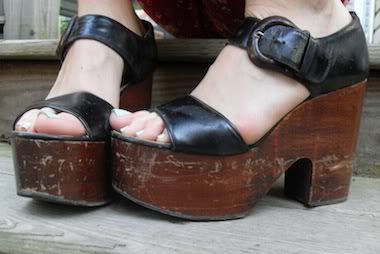 oh yea, back to being a penny pincher, and 3. its cheep. so loving and wanting to wear and sell vintage, this can be kinda hard. since the going rate for pretty dresses from decades past is how much i want to spend on an arm full of things. found in a place where sometimes i come across things just like this. and its better, so much better because i found it here. surrounded by over sized tee shirts and mens underwear.
ahh, but still im getting off track. this isn't where i want to go with this post, what im trying to talk about it platforms..and this dream i have of them happening upon me at one of my local spots. so recently i have been really saving my money, and i am doing pretty good so i was going to treat myself to some platforms on etsy. they were $99....wayyyyyy more than i would normally spend on any one thing..but i thought, hey, if its really this hard to find something this good for cheep, and this is the kind of price im gonna have to pay for it..god damn, fine! ill do it then. i dont know, the more i thought about it the more it sounded like a good idea...so i contacted the girl and was going to purchase them, but she already sort of reserved them for someone else. darn! but she would let me know if they didnt follow through (i was getting paid on thursday and told her i could purchase then)
so thursday came and went, she said she would let me know friday, but it was pretty 100% they were mine! but then i went to brimfield...
well now, THANK GOD! courtney said to me, maybe you will find something better at brimfield, and yes i did! sorry, im just really excited about this story. its fate man. its the shoes finding me, like how i hoped they would in my dreams...just with a higher price tag. but wait, they were only $60.. and a zillion times better than the ones i was going to get on etsy. and since i was already planing on spending so much, this was a lot less so so sweet.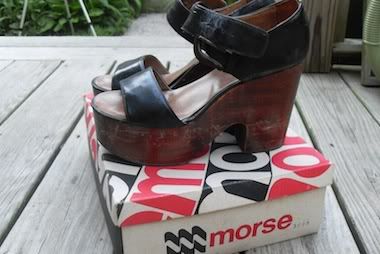 they also came with the original box, with a receipt inside! bought at morse (i guess a department store??) in springfield, mass. on april 19th 1974. i love it. its just too good. and the lady i bought them from was real sweet, we talked a bit about vintage and such. i was walking on air after that. oh and it was at the end of our day there. and it was huge man, this place. so much stuff. we had to skip a lot of tents and whole sections. what if we skipped this one? i could have easily passed this one my had i not been looking carefully enough.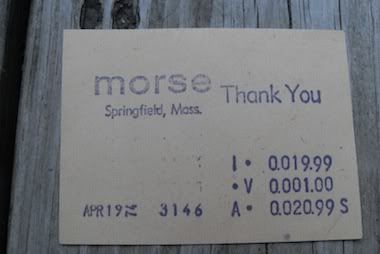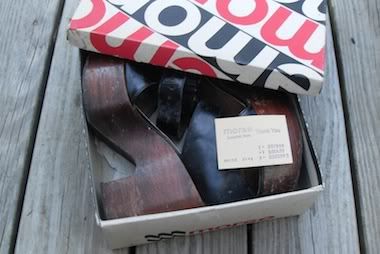 so these shoes are totally bitchin. i wore them out dancing the next night to a place called the basement. lots of doo wop music and really great stuff for dancing. they held up well! hurt a little bit walking far, but as far sand standing and dancing my buns off, they were great. they do need a little love. some leather conditioning, some reinforcement on the strap buckle and area. maybe some sanding and staining if all the scuffs start to bother me. gotta bring a few pairs of shoes to my cobbler actually. but they are amazing. so thats my story about my shoes. i really do hope to wear them a lot. i know they aren't the usual thing you see these days. but i like to think they are.