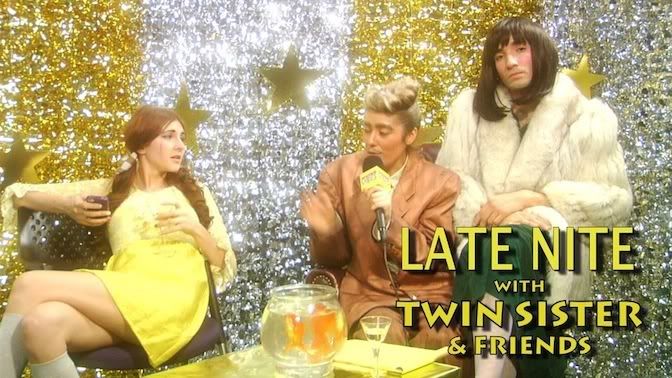 So a week ago I got involved in a really cool project with my friends in the band Twin Sister and MTV. You may have heard of this semi-new online MTV show Weird Vibes that has an awesome old school MTV feel to it. About a month ago I was enjoying a night of karaoke with these friends and bandmates and I was told of this project they were going to be working on. That they were to host a music video show, and do pretty much anything they wanted in between. I wanted to get involved with ya know, hair and makeup, set up and costumes and stuff. But then Andrea gave me a part as Baby New Year! Mr. Weird Vibes' (Andrea) hot lady friend to bring out guests and serve champagne!
The full episode wont be out until Monday, but for now stop by the
Werid Vibes
page for a little clip of the talk show that is Twin Sisters brain child. Thanks to everyone involved, the WV team put up an amazing set and really had fun with the thing. I really can't wait, it's quite...WEIRD!
*Andrea's hair done by me, her makeup done by herself. Check out
this post
from a year ago when I first tried out this awesome hair-do on myself. Includes a link to the tutorial I used.