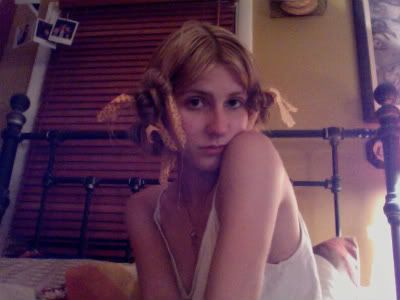 so a few days ago i tried out pin curls. i looked up on youtube a tutorial on how to do it, it seamed simple enough. take a shower, almost completely dry my hair, wrap it up into little curls and pin them and then tie a scarf around it and let them sit for a bit. i wasn't sure how my hair would take to it since my hair is very thin and pretty straight.
well it didn't take at all. well my hair was a tiny bit wavy, but then i slept on it and it was jsut messy like usual. so last night i decided to do rag curls instead. this seamed like it would work better since you do it with wet hair and then sleep on it. and i think it just looks so darn cute to have all those scraps of fabric in my hair!
i just took them out about half an hour ago, and my hair looks bangin!
up top there, thats me last night before bed. all ready to get some sleep and am excited as heck to take them out in the morning.
now these next few are me in the early am having a photo booth photo shoot. i think they came out so well. i just want to stick some flowers in it and call it a day! im going to be doing this very often for sure!