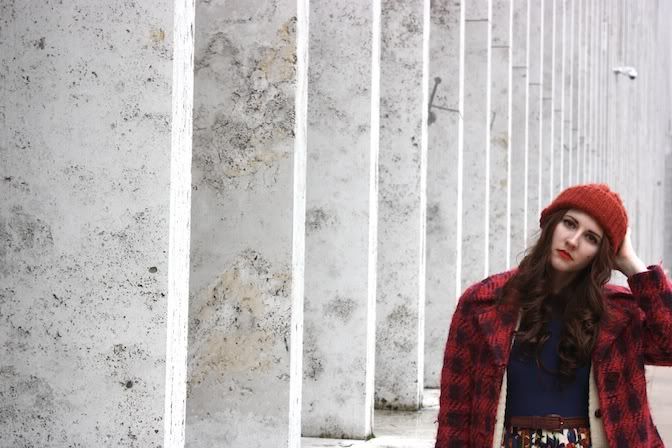 So here is like the only outfit I really got photos of this weekend. I wore this on Saturday to hang around Lincoln center with a bunch of gal pals to do some people watching, and to be watched ourselves! It's funny walking around Lincoln center with no real purpose for being there, but to be mobbed by photographers for what you are wearing either way. I have experienced this before, but my lovely friend Kater from
All This Happiness
who was staying with me was a bit new to the scene and it was funny to see her get asked for her photo, and then to have 5 more photogs pounce!
Pretty much everything I am wearing here is vintage, the coat and dress as from
Donnaland
when I went to work in her St. Louis warehouse. I think this coat is the best thing ever, it really makes me stand out in a city where everyone wears all black. And I have gotten a billion comments on it since I got it. The wooden box bag I also got in St. Louis, but from a flea market we went to on our day off. It was a bit more then I would normally spend, but I knew that if I left without it I would be thinking about it forever! The shoes I just scored the other day from Beacon's Closet in Park Slope, and they are by Ann Demeulemeester.. which was a bit of a struggle to pronounce right when asked what I was wearing! The hat and tights are from forever 21.
This outfit made it onto a few sites from that day, including The Cut and The Fashionista! This is actually the second time I have made The Cut, the other time was a few seasons ago I think durring the September fashion week. Pretty excited. You can go
here
,
here
and
here
to see this look in action! I didn't really think about it at the time.. but I guess I posed the same for everyone.. so it's a bit lame haha. But whatevs, I guess I was doing something right!
And thanks Kater for these photos! She has a nice camera, way nicer than mine!