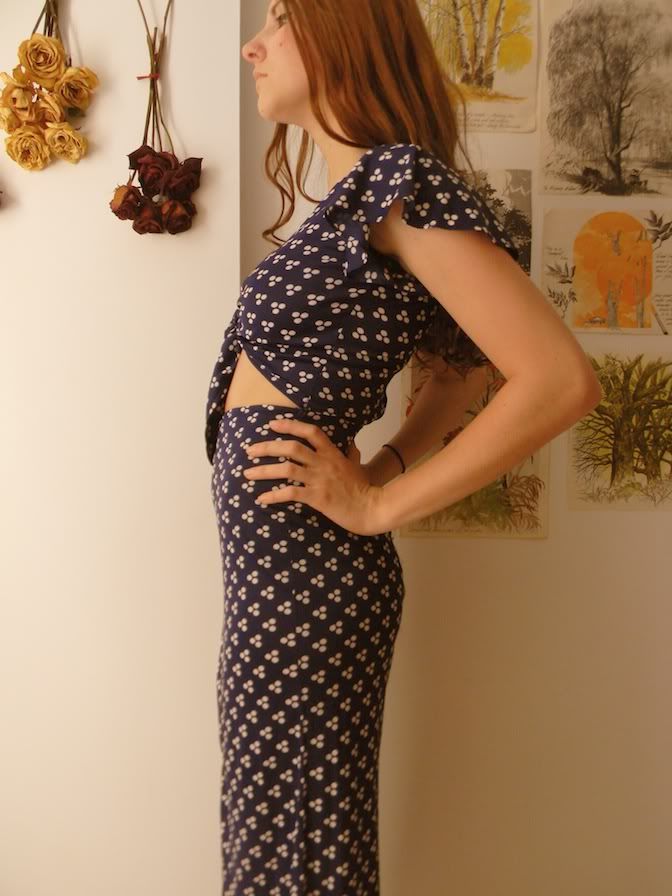 Another great find at work! Well, it wasn't even my find really, I was out of town for the weekend up in CT for a friends birthday (which I will share with you all later.. so much fun!) and when I came back into work yesterday I had a few things in my bucket from the girls while I was away. Always a nice surprise and one of the best perks about working there, it's like your co-workers giving you gifts all the time for no reason!
So this dress was waiting for me at work yesterday, super amazing! I think this kind of 70s/90s style dress is my new favorite thing. With this horrible polyester fabric, but in most cases has a great print and the rest of the dress is so great that fabric don't matter one bit! In these slinky styles with cool details like a tie at the bust and a cut out below! The whole world knows I love me some crop tops, and this is like a distant cousin.. or some sort of inbred baby.
My shoes, another new love of mine! Remember when I fist started at Beacon's and I scored a pair of Swedish Hasbeens? Well these are not them.. I got so excited about finding them that I made myself believe they were my size.. they did fit, but not as comfortably as would have been nice. But I held onto them anyways. And then last week these came into work, they are Sven Swedish Clogs, never heard of it, but I love them! And they really are my size! So I sold back in the Hasbeens and gave them to my friend and co worker Alley since she is a size smaller than I am. So now all is well and I her and I can both frolic off together in out Swedish clogs!