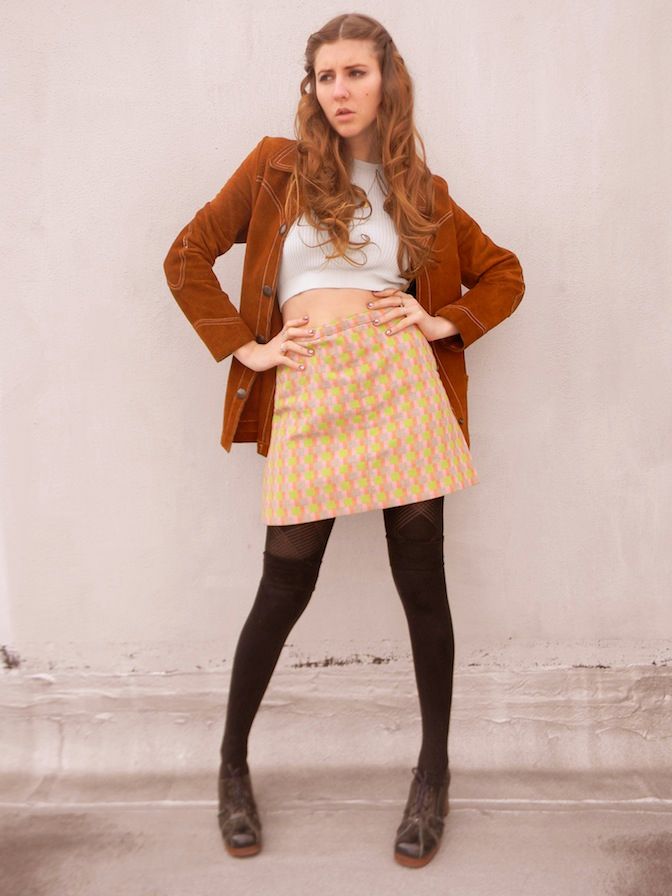 So theme fridays seem to have kind of gone out the window again. We forgot to draw them for the last two weeks, and I think someone is trying to sabotage the whole thing, since I have found the top hat we keep the themes in turned over and many of them missing. Whatever man, I use every day as an excuse to dress up in some way, so suck it.
Anyhow, this outfit seems to be somewhere between the 70s and the 90s, and I dig it. I watched Taxi Driver last night, so I think I was a bit inspired by that, but mostly I was inspired by my new shoes here. Oh these things? These kick ass deadstock platform shoes?? No big. That's a lie... HUGE BIG!! And it gets even better. Yesterday I went with my friend Tony to this warehouse in LI City owned by the dude Randy who sells all the really awesome vintage shoes I own into Beacon's Closet. I had met him originally at Brimfield, and whenever he comes into my store we chat. He told me to come by the warehouse sometime to check out his stuff. And what might be this "stuff" of his you ask? Well, in 2000 he bought the stock of a shoe store that closed in the 70s, THOUSANDS of boxes of shoes ranging from the 30s to the 70s... it's quite a sight to see. Size runs in all the styles, huge shelves stacked high with old boxes.. I almost passed out.
I wanted to snap some photos, but Randy isn't too keen on it, which I totally understand. There are some amazing shoes in there and he doesn't want people knocking off the styles without paying for it first. You don't even know... the platforms I saw!!! I need to go back and get more.. but first I need to save up some money, cause they are not Beacon's prices in there. Randy is also looking to sell the whole lot of them since he has been sitting on them for 13 years.. I can't even imagine what it looked like when he first got them all, and what other kinds of styles he maybe used to have. It's things like this that make me love vintage!!!