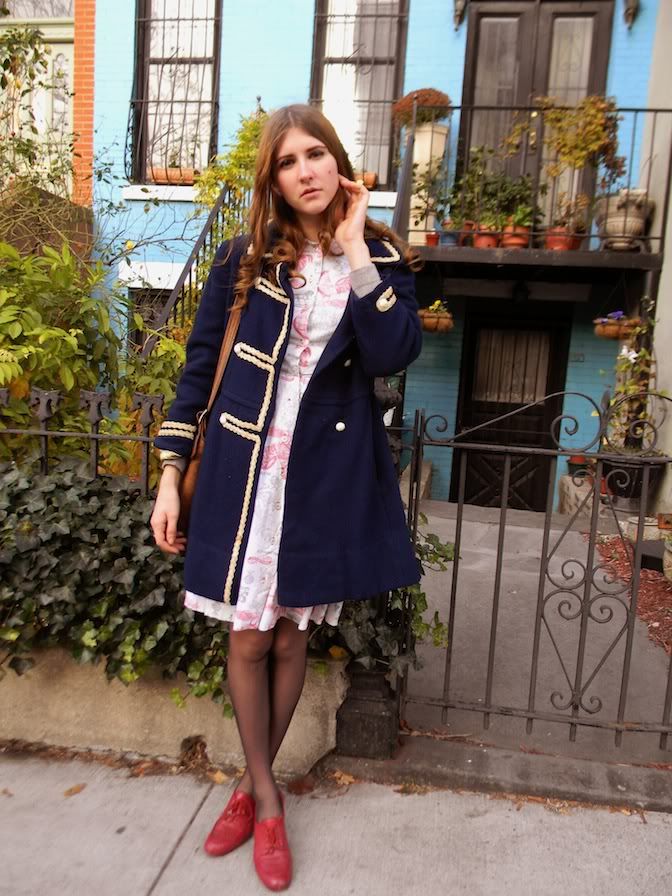 Yay! An outfit post!! It really sucks that I have been so bad at capturing my outfits these days, cause since I have been back from St. Louis I have had a whole new slew of dresses from
Donnaland
, I have been wearing a new one like every day. This dress being one of them, maybe my favorite, I mean look at that print! And the cut is just right, definitely holding onto this one for a while! This coat is also from Donna, I picked up 4 coats when I was there! I was kind of in need of a new one, but now I have so many I can actually pick and choose and make my coat a part of my outfit, not just what goes over it. I can't really say wich one of those is my favorite, but this one has gotten quite a few compliments. I got these shoes the other week from Beacon's Closet, the tassels on the shoe laces made me cave in a buy them!
So pretty much all of the new items are now up in the
shop
, be sure to head on over and check them out, there are some really great colors in there. Everyone here in NYC wears black all the time, but I am drawn to so much more color, and that really comes out in the way I curate my shop. I hope you all like color too! Oh, and I just want to say thank you for all the kind words from my readers, a few posts back I mentioned how I am just not to driven in this whole blog thing right now.. but so many of you urged me to keep going! Saying nice things like I'm your favorite blogger, and a big inspiration.. gosh you guys. Way to make a girl blush!! I will try my best to stay at it, I really do love this community!!
Speaking of this great community, Hannah was nice enough to include me in her
Holiday Gift Guide
, urging you all to shop local, small businesses and hand made items. I am so on bored with this, give your money to people who really need it, where it counts, and for items made with love and often times the best materials around. Thanks Hannah for the mention!