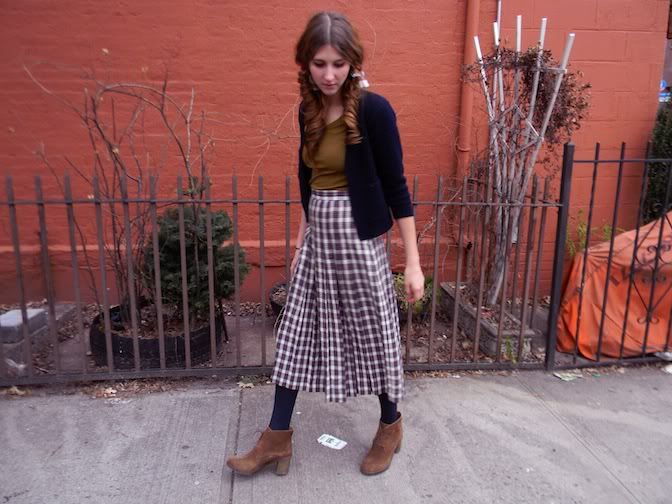 Today was a lovely day, although it ended with me working a 6pm-2am shift I got home from not too long ago, it started spending the day goofing around williamsburg with my friend
Anna
. I met her for some food at this place Vanessa's Dumpling house that just opened that location last week. It was my first time going, and it was delicious and I got a butt load of food for under $5 so it was a success. Then we just wandered around and stopped in a few places like Junk and THIS AMAZING PLACE called
Brooklyn Charm
that sells all the beads and charms and chains and fixin's for making jewelry.. it's really amazing, Anna was the one doing the shopping but I will definitely be gong back when I get more of an idea of what I want to make. And when I have more time as well, like I said I had to be getting to work later on and I could have spent hours in that place.
Today was really mild, which was a nice departure from some of the freezing cold weather we have been having as of late. So all of this coat and scarf nonsense I had going on was really not necessary and I was totally over dressed. I got the coat at this thrift store back on LI I used to go to all the time.When I got this baby I think it was in the spring, all coats 50% off, so it came out to like 4 bucks or something. I love it, and it has the only real fur I own on it. The awesome tapestry bag I got from
Kennedy Holmes
and it very nicely fits my camera, wallet and phone. The little navy blue cardigan I got from the boys section of another location of the same thrift store back on LI as the coat. The tee and plaid skirt I got last weekend going to the Goodwill Outlet in Long Island City with my good friend
Liz
, she took me out for some breakfast and rummaging. And the shoes are Aldo, I just got them recently with a gift card I received for xmas. They are my first brand new, as in not owned by anyone else before, clothing item purchase in a long time! haha! I really like them, the heel is the perfect height but I'm also hoping they will hold up the the cold winter New Yrok weather we are just beginning to feel round these parts.