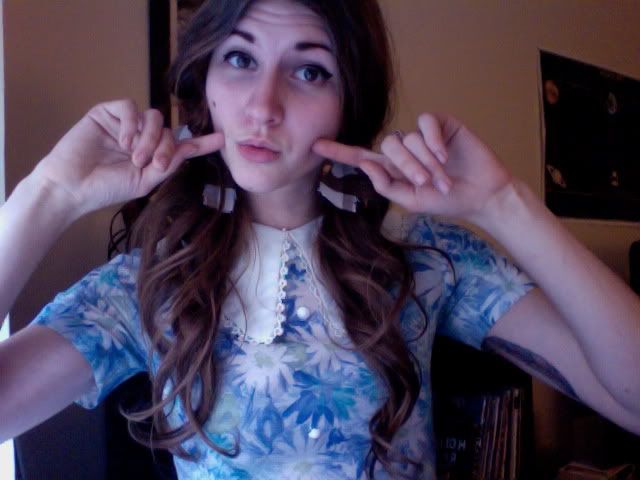 Happy new year everyone! This is my first post of 2012, and I'm already off to a horrible start! Five days into the month and all I have is this little post here with a silly photo. The start of this month marks two years since I started writing on this blog, as well as having my etsy shop. It has been an absolutely amazing journey, learning about and meeting all kinds of great people who I now call friends. I finally moved out of Long Island with my boyfriend and we are happy as ever!
So now lets get down to new years resolutions, first off I need to start blogging more regularly again. I need to get up the courage to start taking outfit photos out on the street or something, because I have really been lacking in the department and I think thats why. Back at our old place I had more privacy to do such things, and have very little indoor light here, so I just need to suck it up and get back in touch with my tripod. Another one as always is to be clean and more tidy in my living space. Hang things back up and having a place for everything to make things more manageable and not let it get overwhelming. I also would like to take up yoga for my posture and crooked spine issues. I also want to get a portfolio together and really try to model professionally. Because I know I have what it takes and it's time to start getting paid for it, cause I'm nearly broke all the time!
Thanks to all the wonderful readers who have stuck around in the last year while I'v been the worst blogger ever. And thanks to all those other bloggers and friends who are a constant inspiration and motivation for me. I'm looking forward to another amazing year!