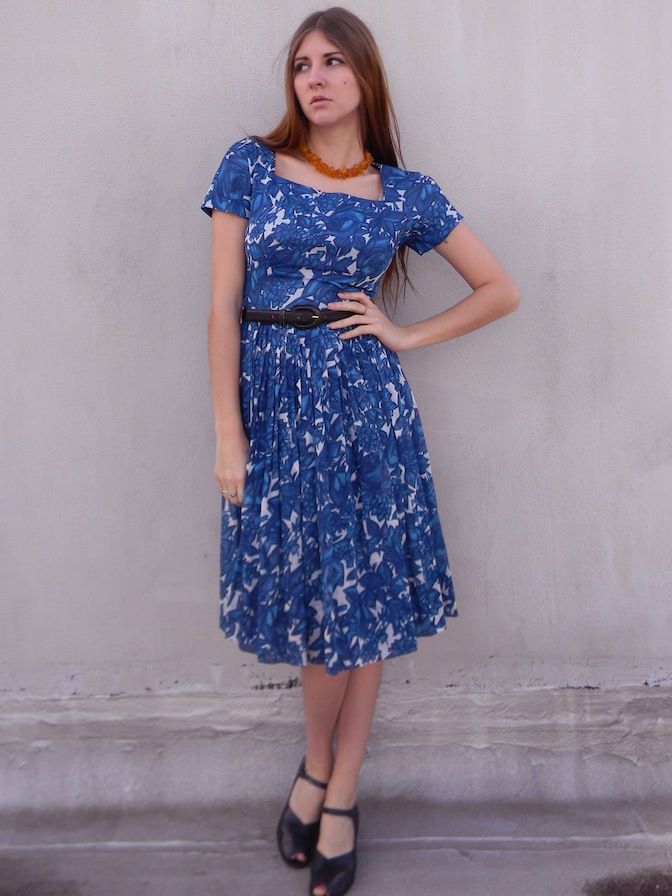 Look at this lovely new blue dress of mine! The ever so wonderful Kater of
All This Happiness
gifted it to me over the weekend. She said she had it for a while, came across it and thought of me so she held onto it to give to me when she saw me next. I just love it! I don't think it's all too hard to guess my style, seeing as I love most vintage and any little 50s/60s dress will suit me just fine, but it's always nice when your friends can really tell what you're into. And it's always nice to know your being thought of even when ya don't see that person all too often. But I am hoping that will change soon, currently Kater is living up in Albany, but is planning to make moves down here to Brooklyn in the next 6 months or so when her folks sell their place. And when that happens I hope to make her my roommate, a match made in blogger heaven!!
Today is my day off, and a much needed one! I went to bed around 9 pm last night, quite a feat for me as I most often lay my head to rest around 1 or 2 am! I was beat beyond belief after working on a music video shoot with
Celia Rowlson-Hall
which called for me to do lots and LOTS of running! I mentioned this briefly before, but last month Celia contacted me asking if I would style and be in a music video she was directing for Atlas Genius. Using all of my own clothes for me and Beacon's duds for my music video ex-boyfriend, I styled us for a video that basically consists of us running all over Corona Park and Flushing Queens. I won't give away the whole story, but I can tell you that it is going to turn out amazing. We worked with such a great team and got some amazing footage or us running after a car with a dude strapped to the back with a Stedicam.. crazy stuff! Still one more day of shooting ahead of us, but for now I am glad to be resting, cause I can barley even walk haha! I don't run around too often, so the back of my legs are killing me, but it is all worth it for what I am sure will be a killer final product!