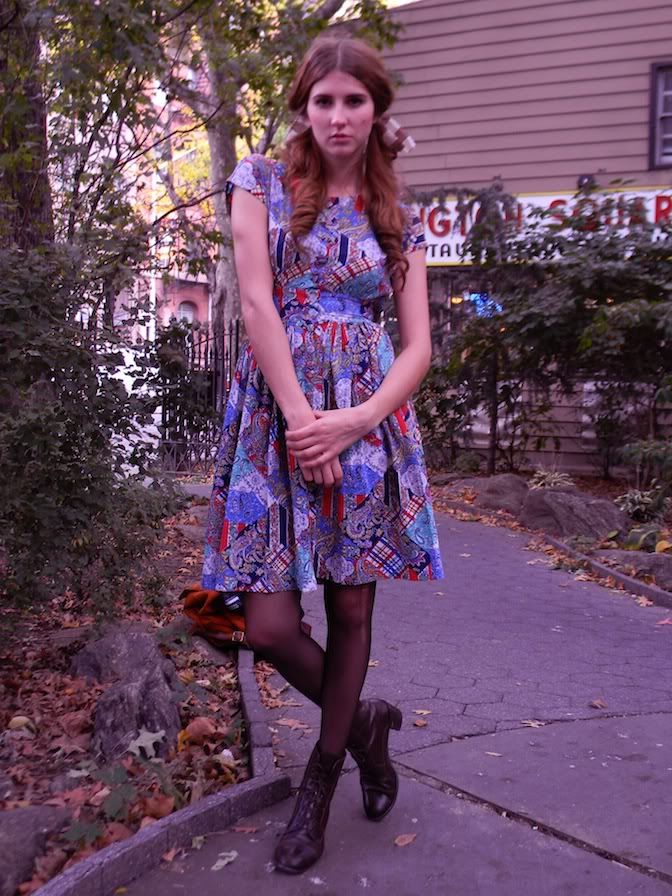 Yesterday was another lovely day off with my boy. We went into the city to check out Occupy Wall Street.. but more on that later. We also walked around a bit and got a late lunch. We just kind of took it easy, it was a very chilly day, more so than I expected it to be! We had a couple of indian sumer days over the weekend, but now it is back to fall weather.
I went back to the Beacon's Closet in Park Slope on sunday to do some more trading. I went through my wardrobe and decided to get rid of some more things. I didn't have nearly as much this time to trade, but I did get almost $40 in credit, and I got this dress with some of that money! Another quick favorite in my vintage dress collection. It was missing the two buttons at the waist, which kind of sucks cause they are fabric covered buttons.. but I just replaced them with clear ones and no one is the wiser. I'm really into the shape, and the print.. I have kind of been wearing it every day :P
And I also found a new way to wear my hair!! I have been wanting to try pig tales again for a while, ala Bridget Bardot and other sexy full haired babes of the 60s. I was a bit unsure, since people already think I look 18. But I think the look is quite flattering, especially with a bit of teasing and adding some rag curls the night before to get some curly Q's. Expect to see in in pig tales a lot more from this day forward!