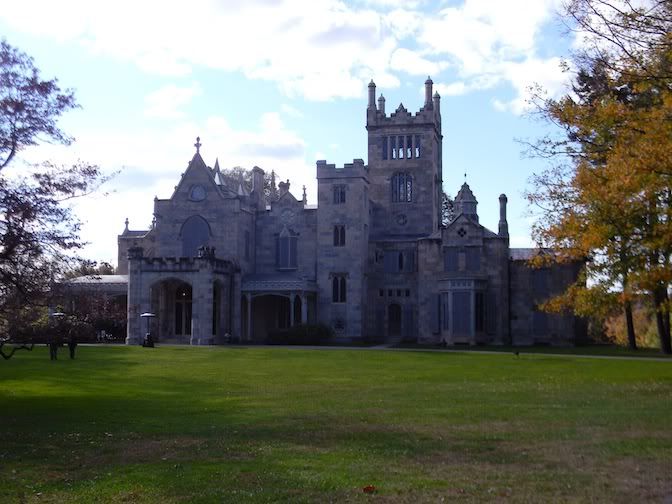 So first let me just say it's good to be back! We haven't had internet in like a week, some connection issue, so I have had a lot to post about on here, but no means to do it! So let me start off with the trip I took this past weekend with my family.. this is going to be a very image heavy post with lots of photos of my little sister making weird faces.. cause she can't seem to smile nice ever. Me, my parents, my sister Madeline, my brother Taylor and his girlfriend Ashley crammed into my moms ford explorer and took a drive upstate to Sleepy Hollow! It's really a very quick drive, just about 25 minuets out of the city and such a nice little area along the Hudson.
First we went for a tour of the
Lyndhurst mansion
in Tarrytown, a really beautiful gothic castle mansion built in 1839 that was home to a few wealthy families of the industrial revolution up until 1961 when it became a historic site with the national trust. It was really amazing, and I wish we were allowed to take photos when we were inside. Nearly all of the walls and details of the ceiling and molding was all faux marble, wood and even leather. It was amazingly painted onto the surfaces with such detail and likeness, it was quite breathtaking. I want to live in that place. On the grounds is also the nations first steel-framed conservatory which is in the beginning stages of being restored. Although at it's current state I think it is still so beautiful, and I really want to head back up there soon to take some photos with my girl friends or something. It's so close to the city it will be very easy to just make a day trip of it.
Later that night we went on a night tour of the Sleepy Hollow Cemetery where we got to hold lanterns and walk around the massive and hilly cemetery for two hours. It was quite a walk, but fun, and at the highest point you can see Manhattan. I didn't take very many photos of the night walk, just a few random shots to try and catch some orbs haha.
It was a fun weekend and it was nice to get together with all my family, which hasen't happend much since both my brother and I moved out last year. My sister is in high school now, and it almost as tall as me! And now she's like turning into this real person and she totally seems to be getting into the same music as me.. It makes me a bit sad I'm not around for her more, but I'm happy to get to spend time with her when I do. She also let me rag her hair that night. haha.