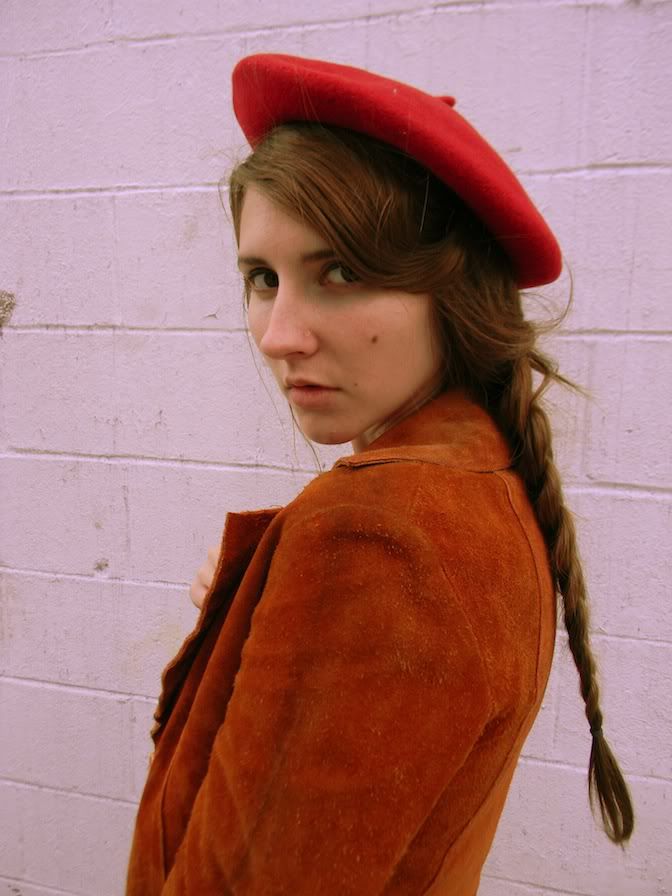 Fall has definitely hit NYC, and I could not be happier about it! Finally it's time to break out the jackets and the layers and the hats and thigh highs. I know in a few months time I will be sick to death of wearing tights, but for right now it is a welcome return and easy way to spruce up any outfit. I need to work on building up my collection again because I tend to just discard them in the summer months because heck, who wants to think about tights in 90 degree weather?
I got this red beret last week from Beacon's closet with some of the credit I still have there from trading. When I was little I had quite the collection of berets actually, I guess my mom really liked me in them or something. Ones with big bows or flowers on the front, very kid in the 90's. Most of the ones I had were black, navy blue or dark green though, so bright red is a nice departure from that, and my first beret in probably 15 years. I like the color with my hair too, this will be my first fall/winter with dark hair since dying it in february and I am quite excited for it. I tend to feel very washed out in the cold months with blonde hair, so I'm excited for more of a warm feeling to my look.
I guess I was going for somewhat of a parisian look here, with the stripes and beret and all. This wonderful suede leather jacket I got at Beacon's Closet too, last year some time, it was like $40, but I got it in trade :) The striped sweater blouse was thrifted, as was these sweet red shoes that I never wear, but should more often. The skirt was from my best friend Ali and the thigh highs are from H&M I think. I am excited for more fall dressing, and the weather all this week is supposed to be beautiful and mild, can't wait for the leaves to change too!
Oh! and don't forget, there is a 30% off sale going on at
Golden Fur Vintage
until sunday the 9th. Just use code "SPOOK" at checkout!