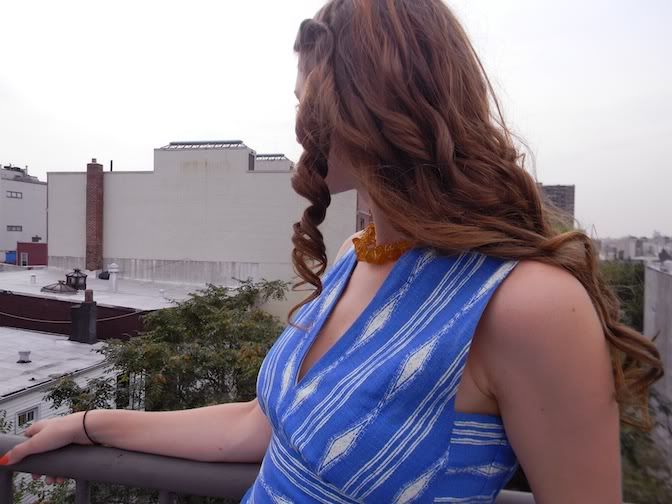 Just got this amazing dress from work yesterday, the brand is Madchen, (with an umlaut over the A) I have never heard of it before.. sounds scandinavian to me or something. Anyone know it? I really love it, the color is so striking and the pattern is wonderful. It's maybe a bit heavy for the amount of humidity in the air today, but when I get something new I pretty much have to wear it right away. Oh, and the wedges are JC, and my new favorite vintage necklace. I feel like "new favorite" is something I say way too often hahah.
I have a few exciting things in the works over here, can't give away too much on this one but the lovely Micaela from
The Drifter and The Gypsy
is relaunching her blog later this month and was sweet enough to contact me about contributing monthly! Me and a few other bloggers will be having regular features on her blog, mine being showing you guys some step by step hair style tutorials! I'm pretty excited about it, playing around with my hair is something I love doing, and a good old collaboration with a blogger who I have been following for a while is always something I'll take on. So keep your eyes peeled on her blog and mine for the launch of that. Also I just may be getting help soon with outfit photos by a lovely Brooklyn lady who contacted me about doing just that. I think me taking my own photos with a tripod has worked out pretty well so far, but it will be refreshing to try something new, and with someone with a nicer camera than mine! Hope to start that this week, big things going on here, stay tuned!