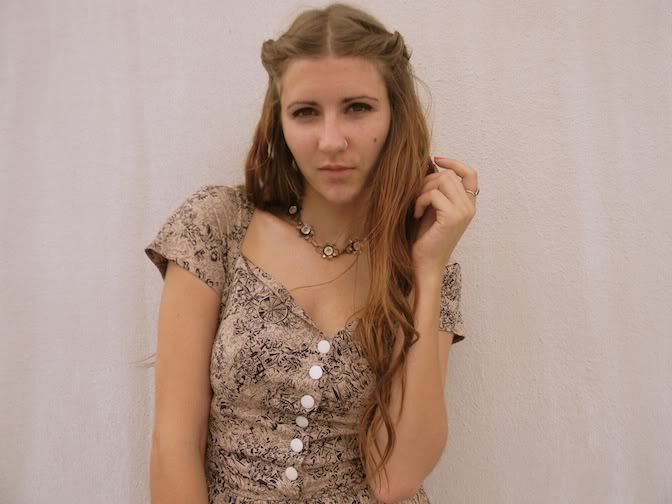 Roof photos!! I have been waiting to live in an apartment with roof access! I guess it's a pretty normal expected thing here in Brooklyn, but at my old place I did not have such a luxury. But now I do and it's pretty sweet! I plan to come up here for most of my photos now probably, it's secluded and only one flight of stairs away.. and full of light which was something I hardly had taking photos in my kitchen at my old place!
This dress I got from where else.. Beacon's Closet! One that I came back to being in my bucket after being off for two days, always a nice surprise. My co-worker Mary put it in my bucket for me, her and I have very similar style, we love kitschy vintage things, but we have totally different body types, like how she's probably under 5 foot and has the cutest little feet I'v ever seen! So often times something is just a bit too long for ehr or something and then she passes it onto me, cause I will probably love whatever she loves.
The clogs, also from work, are Sven Swedish clogs, I recommend them to anyone! I don't really know what their price point is compared to say Swedish Hasbeens, but I can tell you they are plenty comfy and go with everything and I get a ton of compliments on them, so total thumbs up! This lovely necklace I got at Brimfield in May when I went on a CRAZY jewelry buying kick cause for some reason I realized I had none that I liked anymore and all I wanted to do was wear a necklace every day or something. Havent kept my word on that completely, but I did get a few gems, this maybe being the one shining the brightest.
Thanks to those of you who still stuck around and the kind words in the comments from yesterdays post! It always amazes me that when I take a hiatus (and there have been many of them) that there are you wonderful readers still hangin' around to read whatever nonsense I have to say here. So really, thanks again and I hope ya keep coming back!!