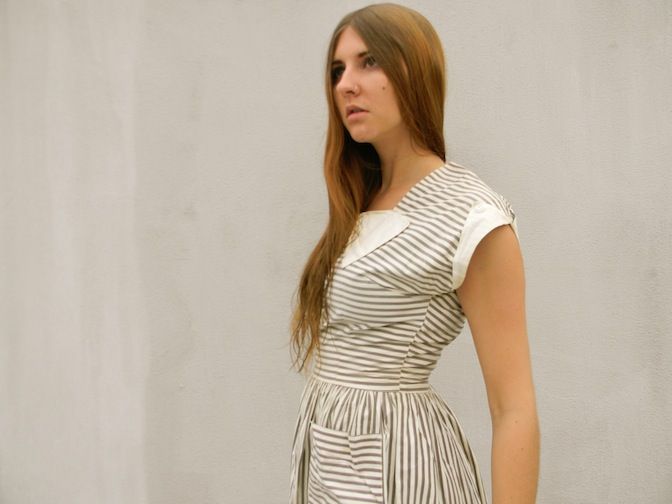 Finally a day off! And it was mostly filled with running errands and junk, feelin' pretty productive. Well, I did sleep in till almost 1, but I never do this. I hardly ever sleep in past 8, my body just wakes me up, oh and my cat George is no help. But I did some running around, got part of my halloween costume, did some food shopping at Trader Joe's in union square, got some toiletries, real cool stuff. And now I am currently sitting in The West cafe writing you this post. I decided to get out of the house for once to do some work, and I quite like it. Drinking a beer at 5:00 while editing my photos, surrounded by other folks on their computers and the lovely smell of BLTs being made. And in a few hours I will be with
Liz
on the LES getting ready to catch a performance by
The Citizens Band
! I have wanted to see one of their shows for a long long time now and am bubbling over with excitement that I will finally make that happen in only a few short hours.
And on to my outfit, I am wearing a new to me dress that I just got at work yesterday.
Alley
had it in her holds bucket, but turned out to be too small for her so it became mine. It was in a bit of a sad shape when it came in, maybe you can see that on each sleeve there are buttons, one is missing on each side. It was also missing a back button so I had to sew different one on and it could use a bit or reinforcing on most of the seams. But isn't it just precious?! The bow at the neck just makes me drool, but luckily there are big pockets to catch it all! And so this dress quickly falls into the category of favorites in my closet, which I have to say by this point is pretty well curated into simply all of them being my favorites. It's a hard life I lead.