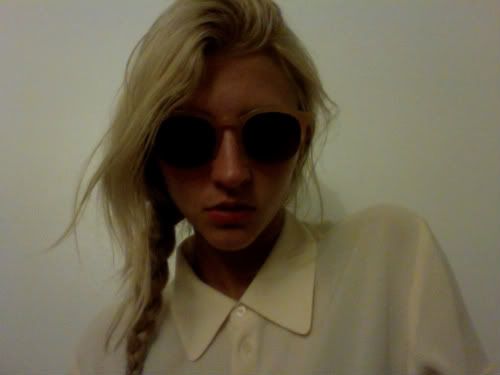 my new sunnies! yesterday i took a long lone drive, in rush hour traffic no less, to go out to the huge roosevelt field mall in nassau county. i really went out there to get some black and mesh high waisted swim bottoms from american apparel, which i did. but then i said "hey, ill stop at urban too, check them sale racks"
i dont get to uo often, there isnt one close by so i wanted to take my chance when i had it. nothing really good, all still a little too over prices. im looking for that real out of season $5 stuff they sometimes have. but no luck. so on my way out i took a look at the sunglasses and right before i was about to turn and leave these caught my eye!
thank god! cause i had also left my house without sunnies that day so i was in NEED. and only $10. all in all i spent about $40 on that trip. but for two staples i really needed. so it was worth it.