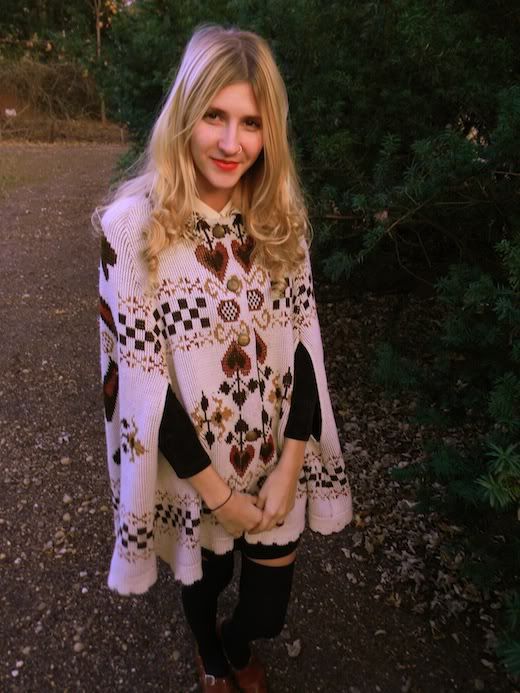 last night i took a drive into the city to meet up with nicole of
fashion forestry
, her and her husband came to new york for a visit (only their second time ever to the big apple!) and i got the wonderful chance of meeting them both! she had posted on her blog how she was coming on short notice and would be in for a few days. i love meeting new people, and i have been a reader of hers for a while, so i figured why not!
we really hit it off, if i do say so myself. we have a lot in common, like our love of eggs, and interest in aliens ;) we went out to eat at this place called
bill's gay 1890's
which used to be a speakeasy back in 1924! it was really nice, good food and lovely photos of victorian ladies on the walls.
then after that we went into brooklyn to meet up with
hannah and landon
which was a real nice surprise because i hadn't seen them since the beginning of october i believe. we did some bad things, like drink some four lokos! and eat potato chips. it was a fun night, im sure nicole with have some good photos of the time once shes back home next week.
im really happy i got to meet her, shes real sweet and its wild to see her great style in person! i hope you come back again soon nicole! or better yet, i make it out to the west coast for a visit. your definitely on my list of bloggers to see on my blogger meet up road trip next summer (just an idea im toying with, im over due for a road trip across the country, and stopping to see many bloggers i admire is my main to-do! who wants to house me for a couple of days when i come around next summer? ill go anywhere... if it happens)
sweetest cape ever- just bought it last week from
fancy bantam
on etsy
cream blouse- thrifted
black dress- thrifted
belt- gift from ali
knee highs- aa
shoes-
nossa bova