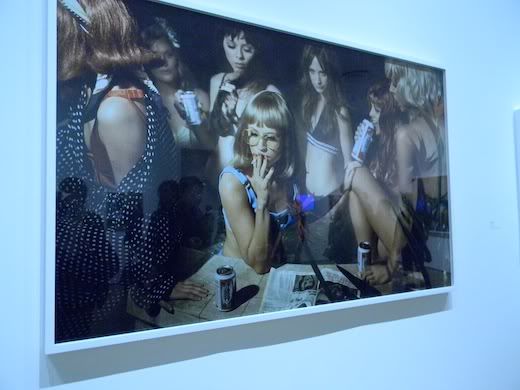 last night i went to the city with ali and her mother. we were going in to stop at a bunch of galeries showing color photography for a class ali is taking. they could be any gallery, but she chose some ones that were at least in the area of out interests. they we mostly in big tall old buildings in the 5th ave to lexington area up in the 50's, so there was a whole lot of expensive people doing expensive shopping going on. we were walking around like toursits with a paper out with adresses on it, getting mixed up in our directions (im used to being on the west side, so numbers going in from west to east really mixed me up!)
we stopped in miu miu where we left like paupers compared to the people who were there actually intending to buy something! the room of shoes was TO DIE FOR. i would have snapped photos had i not felt so out of place being there.
we stopped at the MOMA as well (free on friday after 4pm just so ya know!) where i snapped these lone shots of this great photographer named alex prager. and then we made out way downtown to go to this place
evolution
that i have passed a million times and wanted to go in first with ali because i new she would just love it!
then we ate at bubby's! my first time there and deff not the last! great fresh food, a lot of home made too. even the soda! we stuffed our faces and took photos in the film strip photo booth in the basement. great fun night. and amazing mild weather too!