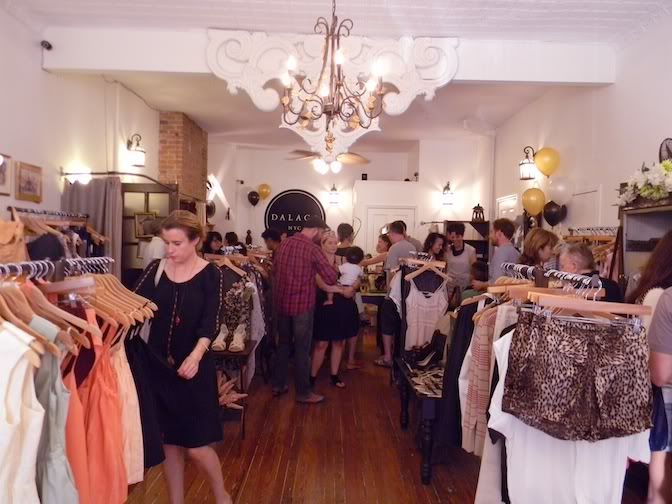 Yesterday was a big, great amazing fun day. To start things off... I FOUND AN APARTMENT! Big news everybody! So totally excited, it's beautiful, an big old pre-war building with the most beautiful lobby I have ever seen. A one bedroom with lots of space, and right off the sunway Jeremy takes to work. And it's also a block away from the
Brooklyn Botanical Garden
. It's in Crown Heights, which is a bit further out than we were looking, but we love it. We move in August 1st! I started packing my clothes today.. so far a bit over 200 items in boxes, still got a bunch of dresses to go, as well as the 150+ items I have for my shop... oy! Luckily this new place has FIVE CLOSETS!!
So later in the evening was the
Dalaga
5 year anniversary party that I was invited to by my friend
Liz
who works there. Not only has this lovely boutique been open for business for 5 whole years, but they also launched a new fragrance of the same namesake, we tired it on, it smells wonderful! I got to meet Michelle and Mary, the sisters behind the shop, they were both so friendly and I could tell really beaming with the outcome of the night! There were cocktails and bacon cupcakes (!) and lots of pretty things on the rack for sale.
Dalaga stocks a lot of great designers, big and small, including the lovely designs by
Alexandra Grecco
who was sporting some killer sparkly Miu Miu heals she scored on ebay for under $100! And according to
Hannah
they will soon they will be carrying
The Loved One
as well! So if you are in the Greenpoint area (which I hadn't been to in a while and it has really grown! bars and restaurants and shops popping up on every corner! too bad hardly any subways run through there..) you should really stop by. The shop is decorated so lovely, with fresh, fake and glass flowers everywhere.
Later I went with Hannah and Landon to grab some late night pizza and discuss all the different things we are going to do once I'm living near by. Beaches and slumber parties and parks.. you name it. I really can't wait to be living closer to my friends, I feel so disconnected out here on LI sometimes. I am so ready for change, and I can feel it in the hot muggy air!
PS, this dress is one that I got in trade from Donnaland, just one of the many new dresses now in my wardrobe, and lets not forget all the ones I have for my shop! Plan to meet up with Hannah next week to get some photos of them so I can try to list them before the move!