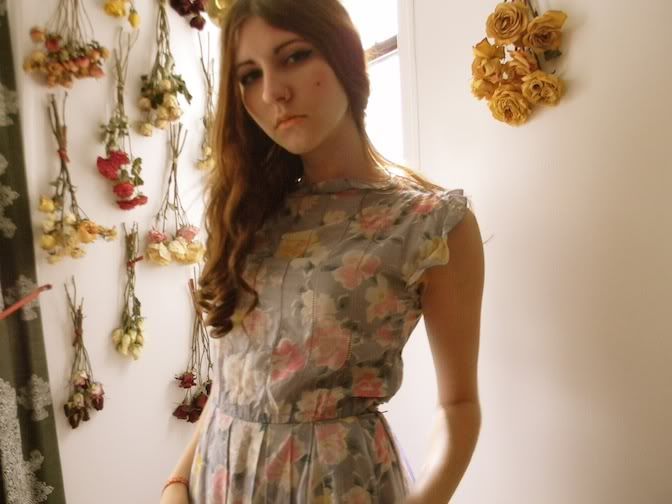 Last night it rained all night long, and it still ain't so nice out. Why am I telling you this? Well because these curls are on their third day and I don't want anything like a little rain to mess them up! On thursday I had some really nice ones going, but then I finally left the house in some misty weather and they were quickly lost. Rag curls work wonders I'm telling ya, they will last for days if done right. But as soon as there is a bit of moisture in the air, thats the end for these babies.
These curls in particular I put in Saturday night and the last two nights I didn't even re-wrap them. Just brushed them out then wound bits around my finger to remake the curls. I think they are the best ringlets and longest lasting I have done. So it looks like I will be leaving the house with a scarf around my head to help preserve them till I get to work, wish me luck!
Another thing about today is that I really wanted to wear this new dress I got, much better suited for a beautiful sunny day.. but I just couldn't wait. I got it from where else, Beacon's, brought it home with me last night, it's pretty much a dream dress. A beautiful shade of purple, which I don't own too much of, covered in flowers and ruffles and the cut out detail on the bodice is just perfect. And it looks like I have acquired yet another pair of clogs! It's a little hard to tell by these photos but they are a real dark midnight blue. They are sooooo super comfortable and gosh darn beautiful!