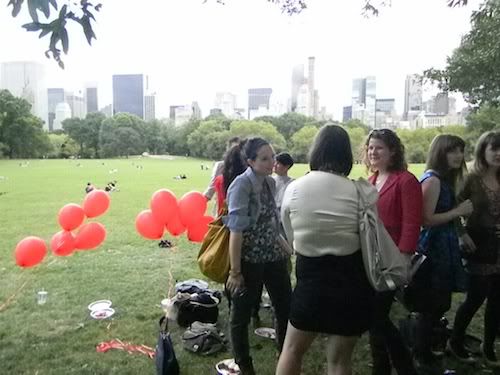 when i heard about the renegade style blogger meet up on friday, i just knew i had to go. unfortunately i was working.. but last minuet i got my shift covered and so i headed to the city to meet some of my favorite bloggers. Rebecca of
the clothes horse
sort of put it together. or she said she didnt really do anything. but she had to idea and put it out there and it brought us together.
meeting in central parks sheeps meadow seamed the perfect spot! marked by ten reb balloons so our party could be found, it was a beautiful day! mix of sun and clouds and filled with lots of bloggers! i think about 40 or a bit more came. it was great!
i went because i really wanted to chance to meet both Rebecca, and Erin of
calivintage
. i knew they were going to be in nyc for fashion week, and in attendance so it was a done deal! cupcakes we had, i brought a little lunch with me. there was one point when we all sort of broke off and did out daily outfit photos. it was fun, and kind of funny looking im sure for everyone around us.
hannah and landon
stopped by with a lovely friend Agnes. i was glad to see them, been meaning to get together with them for a while.
so over all it was a great day. i got to chat with the girls i find inspiring each and every day, and even make some new friends. i think this is something that needs to happen more often! not that everyone is in ny all the time, but you never know!
i wasent too good at taking photos that day, i think i was too excited in talking, but here are just a few..