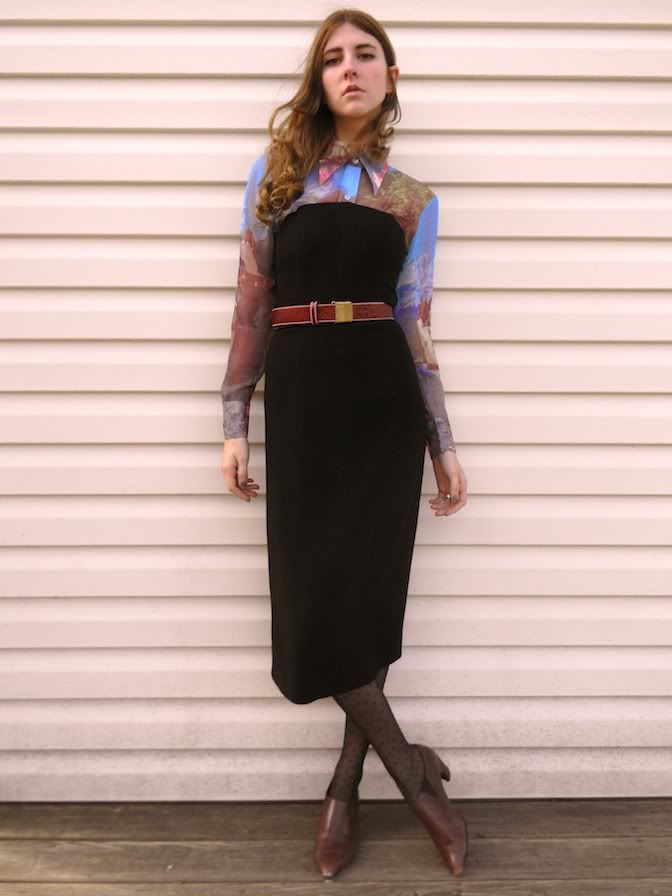 I have to say, after getting dressed today, I am totally and fully feeling this new do'! Yesterday when I was with Hannah she said how when her hair was dark she really enjoyed exaggerating her eyebrows. I never do anything with my eyebrows. They are pretty light in color, I hardly ever even groom them, they don't need it much aside from a stray hair here and there. But yesterday Hannah filled in my eyebrows a bit, and today I tried it on my own.
I like how it looks on blondes, but whenever I tried it on myself, I just wasent feeling it. Now with these darker locks I think it works quite well. Adds some depth and its something I feel you can't really pin point as being different, but you just know something is completing the look.
This top you may recognize from the
video
for my shop.. it was something I was selling.. but.. OKAY! I'm keeping it! But to be fair, when I used it in the video I hadn't realized the listing had expired quite a while ago and was no longer listed. I put this blouse in my shop some time last year and you all had your hair chance at it! I got it at one of the first estate sales I had ever been to, it was a real dirty hoarder of a place, and I dug out this gem! I never even tried it on until that day of filming.. and once I did I realized I couldn't let it go! I'm allowed to be a bit selfish sometimes, sorry guys!
The black body con dress I got thrifting a few weeks back, it's from Banana Republic. A place I never shop because its a bit preppy and overpriced for me, but I find a lot at thrift stores and I find kind of cute. (other brands I find at thrift stores a lot and turn out to be pretty nice: Gap, Ralph Lauren, Ann Taylor and Loft) Tights are from Gap, but you already know about them.. I've worn them in the last few posts! The belt and shoes are also thrifted, no special story about them :)
Today is windy as hell, going out to do something with Jeremy. I love Saturdays.
Oh! have you all downloaded the new Radiohead album yet??? Little fun fact, my blog name comes from a Radiohead song.. can anyone tell me which one??