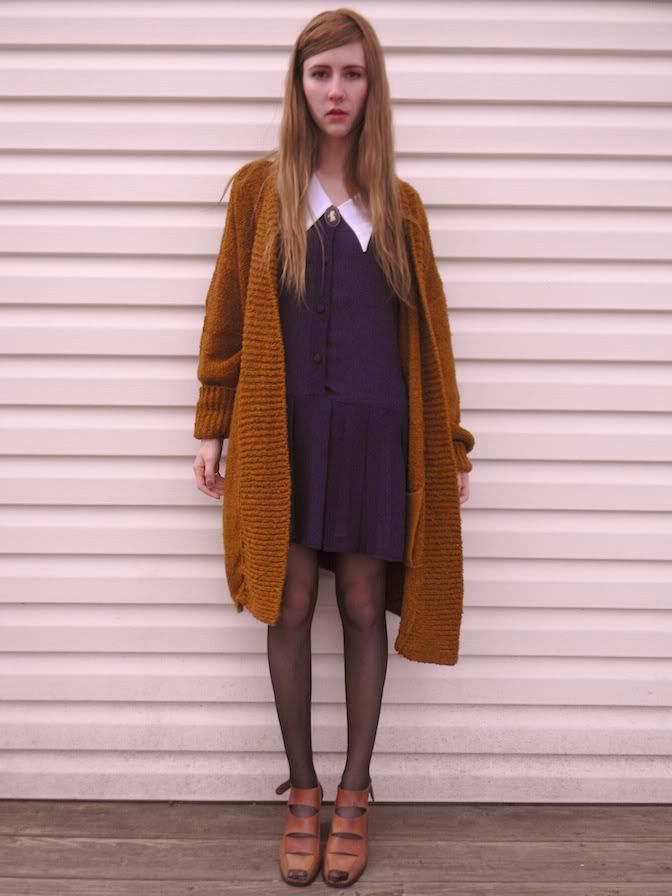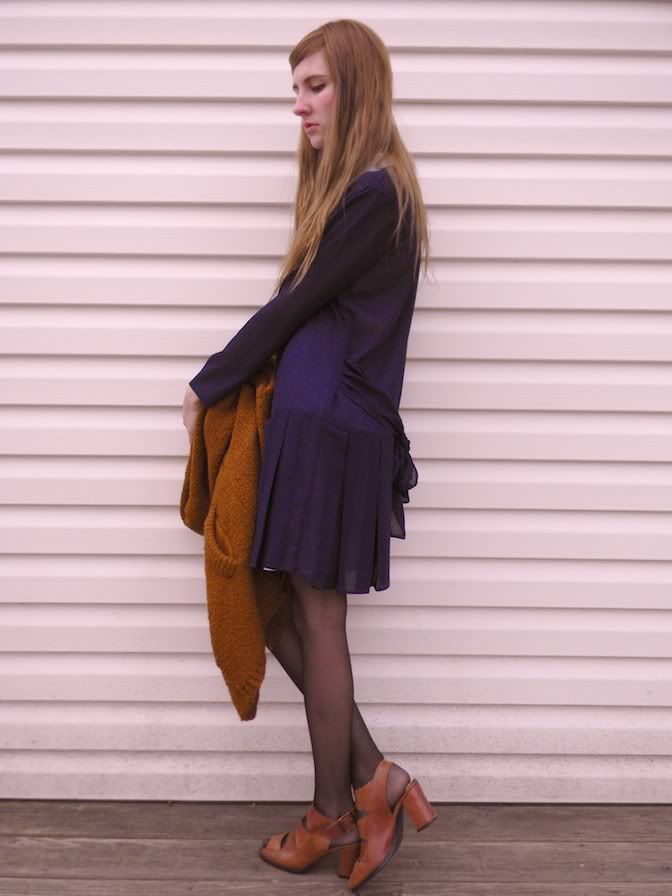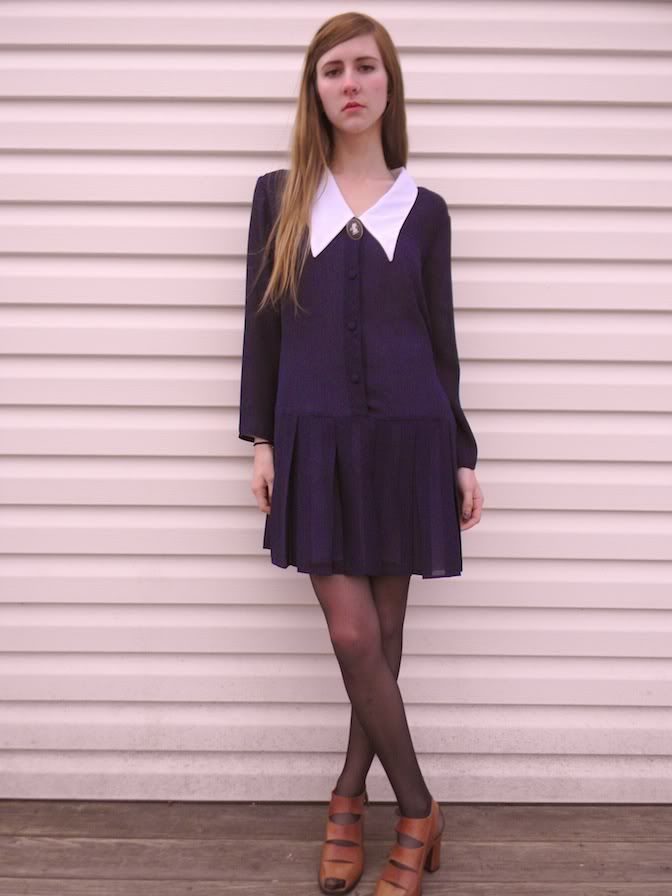 It's funny, I was just about to do a post on some goodies on their way to me in the mail. I did a bit of Etsy browsing last week.. which led into Etsy impulse buying.. but a discount code was involved.. and a high balance in my PayPal account.. so it was practically free!!....
This is how I try to rationalize my problem with shopping. You should hear the conversations I have with myself after coming home with a stuffed bag full of goodies after the thrift store! This dress is one of the things I bought, seriously it took me like 5 minuets between stumbling upon it and hitting "Commit to Buy"! It's so cute.. and this navy color blue has been on my new list of colors to wear with my hair.
I got it from
The Vintage SideShow
which is filled with great stuff with really nice photos. I love a clean looking shop like this, really draws my eye in. Add them as a friend on
facebook
and get a code from 20% off! thats what I did! In my package I was given a great little business card, and was invited back with another discount code! Great shop guys, check it out!
This AMAZING colored slouchy sweater thing I just thrifted yesterday on my day off. I have another sweater in white of the same kind of style, I see sweaters like this at thrift stores all the time, but this color! And It's ever so soft. I'm going to get a lot of wear out of this one. In fact, just this morning when the mail arrive with my goodies I was lounging around wearing a teeshirt and undies and this big guy. Jeremy kept telling me to put pants on!
These shoes I got at a yard sale for $3 I think two summers ago. They didn't have a buckle at the time, so I haggled ;) got that fixes at a cobbler no problem. However.. they are a bit weak between the heel and rest of the shoe. Makes them bend kind of.. so I have never really worn these out of the house! Sucks right? I suppose I can get that fixed somehow, because I really do love these shoes. They remind me of a Chloe shoe or something..
The little Cameo I have on was my mothers, its very very old and British I believe. It usually stays safe in its little box on my shelf when it's not being worn.
So the other things on their way in the mail to me.. A pair of shoes in the same colors as my dress! They also arrived today and are very comfortable and fit well. I don't usually buy shoes on Etsy because most of the time they dont fit. One other time, and this time I have had luck, and I know I will get some good wear out of these granny shoes.
Oh yea.. I also have been wanting a pair of the Jeffery Campbell Lita Boots for a while now. And so I got my tax return which I plan on saving.. But I am very comfortable right now financially so I thought what the heck! I did a little online searching around for them like last month. I found a pair on
Solestruck
but at the time they didn't have them in my size, 8. There was a link for getting an email when they came back in stock in my size.. so I figured why not.. I was still on the fence and this would give me some time to decide. I kind of put it a bit more in fate's hands, you could day. So I signed up and then kind of forgot about it. But then the other night I was on break from work and I came home to pet my cats (I live 5 minuets from my job) and check my email and I got a notice telling me to act fast! Size 8 was in! I looked at the listing for a minuet.. thought back and forth about it.. then I hit add to cart! Then I wasn't sure about it.. wanted to read the customer reviews again, opened a new tab for the listing and OMG! sold out!! But allas! I still had my unfinished order page open! So in whirlwind few minuets I completed the order and it was final!!
Whoa.. that was a crazy story..but I am now the proud owner of a pair of Lita boots. Well in 4-8 business days I will be! Whatever man, I never spend money like that.. it's a little treat to myself and I think Lita and I will live a long happy life together!
Thanks for reading all that! Ha!