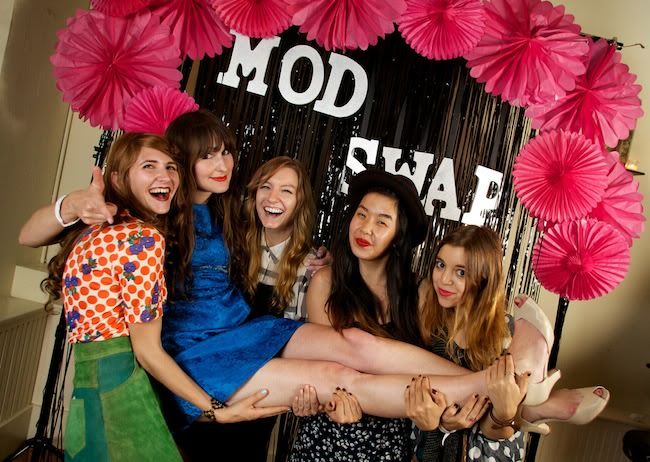 Back to my fashion week coverage and back to last friday night! After the
LuLu's brunch
in the morning, a full and fun night was ahead of us. After a costume change
Ashley
and I went out to eat at the Trailer Park Lounge in Chelsea and it was a blast! We went during happy hour so there were yummy $5 mango margaritas and some grilled cheese and sweet potato fries. The place is totally kitschy with awesome decorations and with a menu that consists of sloppy joe's and chili cheese dogs. I used to see this place all the time when I went to FIT, but never got the chance to go until that night. I will definitely have to go again, I want to try the sloppy joe! Any ladies want to join?
After that we headed to the blogger ModSwap, a super fun shindig put on by Swap.com and Modcloth! I was most excited for this event, clothing swaps like this never happen in NY for some reason, I always hear of them going on in Boston and Philly, but never here! We were asked to bring two items to swap, and in return we got to choose a Modcloth dress as well as something from the racks of clothes other girls brought to swap. I don't really need more clothes right now, I have three HUGE bags of stuff to trade at Beacon's Closet! But I was excited for the change to get a new Modcloth dress, I hardly ever get anything new anymore, and they have some cute stuff. But they also has some choice vintage pieces in there, and a vintage dress is what I ended up choosing hehe. What can I say, once a vintage gal, always a vintage gal.
Some great ladies came out for the event, like
Liz
and
Hannah
(or as I called her all weekend "Hannah Heart City" since we had more than one Hannah in our group) and even
Anna
and
Leah
made it out for the end. Photos are mostly all from Ashley and a few from the
Modcloth event flickr
.
Oh, and later that night a dance party ensued at this new club at Webster Hall called "Hanky Panky" where we danced the night away! I'm sure bad (good) photos of that night will be surfacing soon. Good times, good times.