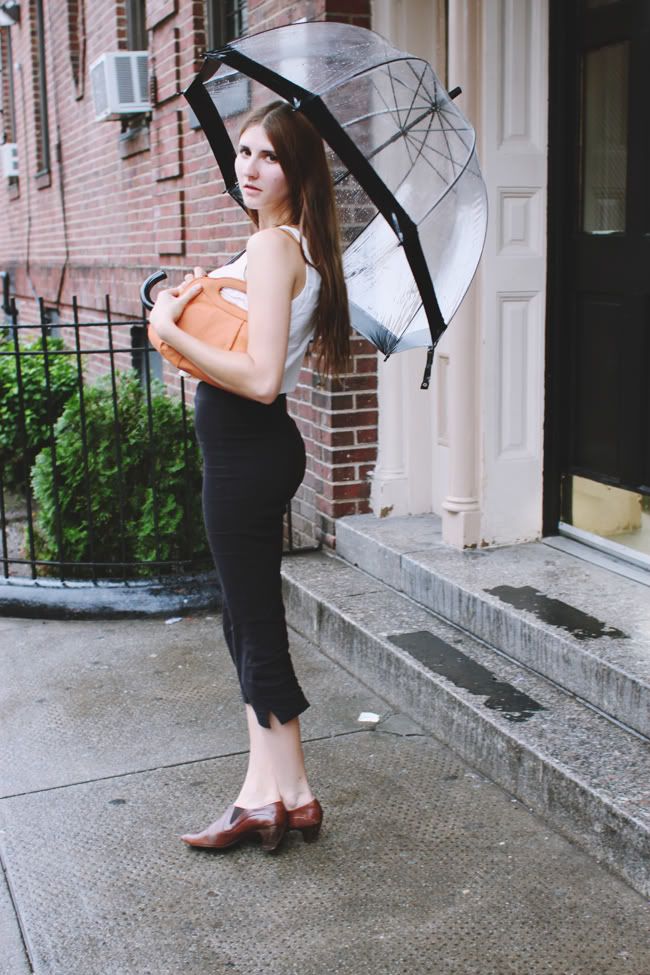 So the time has come, Fashion Week has begun, and I can not think of a better companion for the weeks festivaties than the lovely Ashley of
Fancy Fine
! This past weekend I was up in Brimfield helping Donnaland set up shop one last time for the season, lots of work and heavy lifting, but also lots of lovely vintage for me to take home! Now that I live in Brooklyn, I took the Megabus up there... never again! On my trip up there we were an hour late, and taking the 9pm bus back was the worst! The bus didn't show up until 10:30, leaving me to get home around 2:30am!
Ashley took a plane in late that night too and ended up getting to my place before me! ha, so my boyfriend Jeremy actually got to meet Ashley before I even did! But how nice it was to come home to. The three of us stayed up till like 4am taking about all kinds of things. I am totally excited to have her staying with me, Ashley planned her trip out here for fashion week a few months back, but some plans changed, and now she is staying with week with me, like a dream come true :) I love blogging mostly because I love meeting other girls with great style and personalities. Ashley has always felt like a good friend since we first started corresponding through emails and such, I am glad to get to finally meet her in person. But it does make me sad, having all these great ladies in town for fashion week, cause I know it is only temporary and I can't have them in my life all the time. So I will just have to savor this short time together, and what a great time we will have. There are no fashion shows we are going to, but we have quite a busy schedule for the next few days, Including a very
Stylish Picnic
on saturday, if you are in town, come on by!
This top I'm wearing here was given to me by Ashley as a little gift for letting her stay with us. She knows me too well, I'm always a sucker for a good cropped top, and this one is just too cute! The high waisted pants belonged to my brothers girlfriends grandmother, and I took them in a bit on the sides to fit. The shoes were thrifted a long while back and are alway my go to pair of flats. And the umbrella I think I got at an estate sale last summer. It has definitely come in handy there last two days since it has been raining on and off like crazy!
Today Ashley and I plan on walking into Park Slope and exploring a bit, then crazy Fashion's Night Out plans tonight! I have never partook in it before, I'm not big on buying new clothing, especially stuff out of my price range. But free snacks and drinks sound fun, as well as getting dressed up and running around with city with cute girls. So I'm giving it a go this time around and I think it will be quite a night!
Oh, and thanks Ashley for the photos!