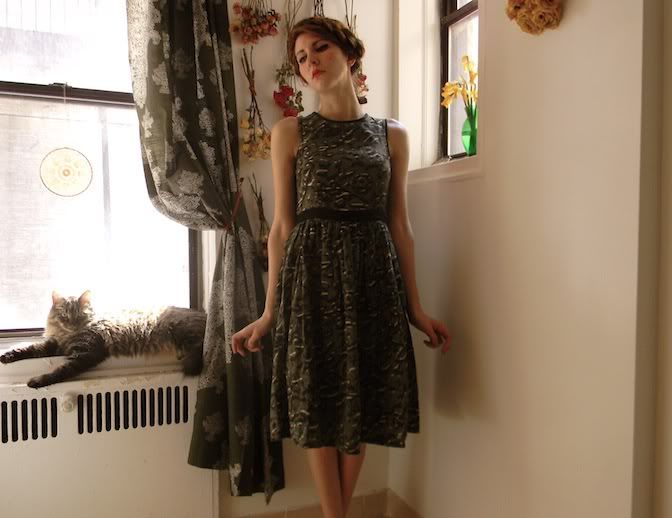 You are probably going to be seeing a lot more "new" items of clothing around here, or should I say modern stuff with names you know that have belonged to someone else already and i'm getting them on the cheap. In the past two years I have worn almost entirely vintage clothing, and I do prefer it.. however I have always been kind of broke and a bit (okay, A LOT) of a bargain shopper so I don't really buy new things cause they are more than I would like to spend. I love and fawn over plenty of designer stuff and more pricey brands.. but I also love the joy of the hunt when it comes the thrifting, and working at Beacon's is a lot like that. It's kind of like the two wolds combined..
Anyhow, what I'm trying to get at is this dress, you think vintage, yes? NO! It's asos! Which is not insanely expensive, but I have never owned something of their before. And I was so surprised to see this was a new dress after buying it in, the cut is very vintage. It's like an olive green color if you can't tell. I was trying to do something different with my hair than what turned out here. Quite similar but just one braid wrapped around my head like a big messy crown instead of the two, but it was not working out. On break yesterday I was looking at the spring Madewell catalog and was admiring the girl on the covers hair, and thats what I was trying to pull off. Why can't I just have my own personal braid slave to braid my hair in all different ways whenever I need it!!!
Oh, and I included a photo down below of my nails, the same that I'v had since the last time I showed them, but it has been a week now and I just want to show you all how well they are holding up! These are those Sally Hansen nail stickers and are super easy to put on and they really last!! Just starting to chip at the edges, but because of the print it isn't noticeable unless you look up close. I really recommend you all trying them, and if you do it right, you can get two sets out of it!
And as you can see from this last weeks outfit photos, Fred likes to sit on that window basically any time i'm in the kitchen, and thats George in my arms, he's my fat baby.