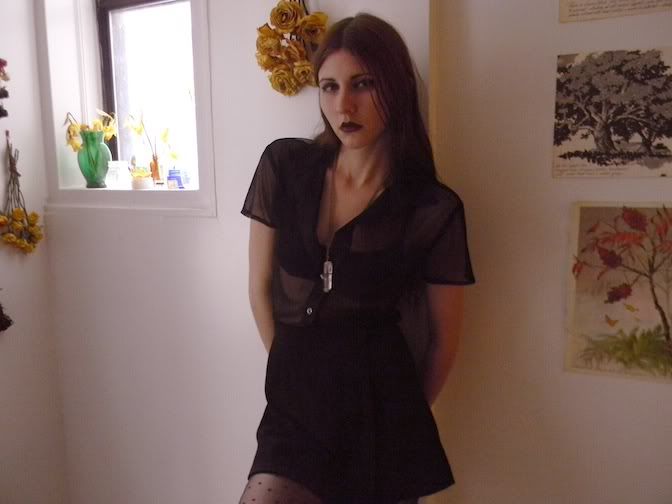 So my second day at Beacon's was a Friday, and on that day the girls all decided to make Fridays a theme day from then on out. It looks like I started just at the right time, cause I always love an excuse to get dressed up in costume for a theme or something. We wrote down a bunch of different themes (clueless, 90s fly girl, saturday night fever..) and will be drawing them out of a hat each week. Last week was the first one, Golden Girls.. which I didn't do the best at.. never really watched the show. So I didn't bother getting a photo of my outfit, but this weeks theme is Gothic.. pretty excited about it.
I was going for kind of a Nancy in The Craft kind of feel, which I guess is more witchy than goth.. but whatever. And today I'm not wearing anything from Beacons! Hurrah! This awesome sheer button up I thrifted a while back and have only worn like once, I need to get more use out of it for sure, it's super cool. The skirt was also thrifted way back when, a really good basic for any outfit. The swiss dot tights I got from The Gap last year, and promptly ripped on my second wear, making them perfect for a gothic look now. Black thigh highs from American Apparel, and the crystal necklace I made.
Oh, and take a look at my new nails!! When I went to Dead Horse Bay last week with Emma, we stopped at the Target that was on the way and while there I came across these. They are like the Sally Henssen nail things, but these are a cheap brand Kiss.. I think they make flashy press on nails too. I thought they were so cool! I don't think they are going to last nearly as long as the others (I wore them for two weeks and they lasted amazingly, just so ya know) but they were only $6 so why not give it a whirl!