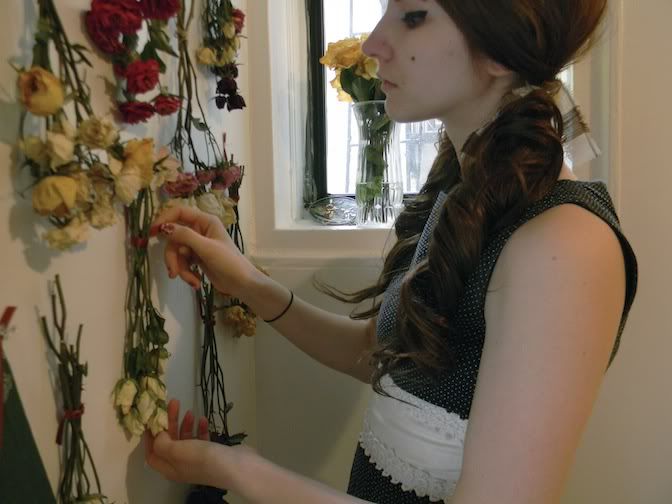 What I'm wearing to work today. This dress I do believe I got from Donnaland maybe back in July?.. But I have only worn it once because then the zipper started coming out and it got added to my "needs fixing" pile. A quick fix I know, but I didn't get around to fixing it until like, today. It fits really nice and I love the full skirt, and lets not forget the little dots!
I tried sleeping with pin curls in last night, for the first time believe it or not! Well, I did try them once before, but I didn't really do it right and the curls didn't come out, so I don't count it. I just did like 5 big ones on each side exactly how I do the little curls when I wear it as a hairstyle. It looked really cool actually, and then I slept with a scarf around them... which eventually fell off, but the curls stayed in place. Before I brushed them out and put them into this do' they looked really nice! Curling success!
Oh! And did you know that Sally Hansen came out with new prints for those nail strip things? Well she did and I got some poppy printed ones a few weeks back at target and just got around to doing them last night. I wanted to wait till I wasent working at Trader Joe's so that they would last for as long as possible!! I love these things, best invention ever!