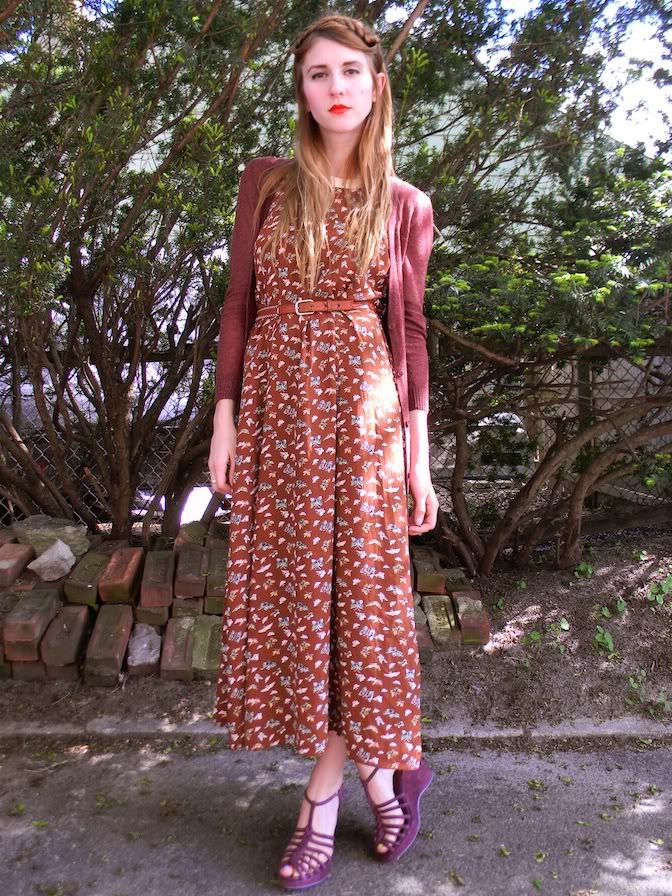 Sorry guys, It's another beautiful day here on the Island of Long! Spring has really hit, and it could not have come at a better time. I am so over tights and layering and runny noses. I'm ready for my mini vaca week off from work, a little me time. But anyways, let me talk about this outfit.. most of all the shoes! I got these platforms from Marshalls when I was in high school I guess like 2004 or 5. They are Rocket Dog of all brands! and totally awesome. I wore them in high school a few times, most notably durring my sr. year when I was really outgoing with the way I dressed. I mean my style has evolved and matured a lot since then, but I hit this age where I didn't care anymore what people thought. I wore some pretty cool things and usually got compliments for my funky choices. I wish I took outfit photos back then!
But anyway, so these shoes for some reason got put away somewhere down the line and stored in the garage at my parents house. That much I knew.. But I could not remember where in the garage! I had a yardsale last year and I remember trying to sell them then! yikes! But I could not remember if i sold them or not. I prayed and hoped, then I went digging and found them in a bin with a boatload of other clothes and things I totally forgot was there. Stuff from high school and junk.. I have too much clothes! So now these babies are back to mama and I'm sure you will be seeing them just about all the time. For the next two weeks at least before something else catches my eye.
I got this cool long cardigan at h&m yesterday when I went with my mom, it was on sale from $32 to $10! nice! I really love the color and the long long length, especially since I wear a long hemline so often. The dress I thrifted yesterday on a short trip to the salvo that I promised myself I wouldn't spend more than $20 total. I spent $21.. good enough!