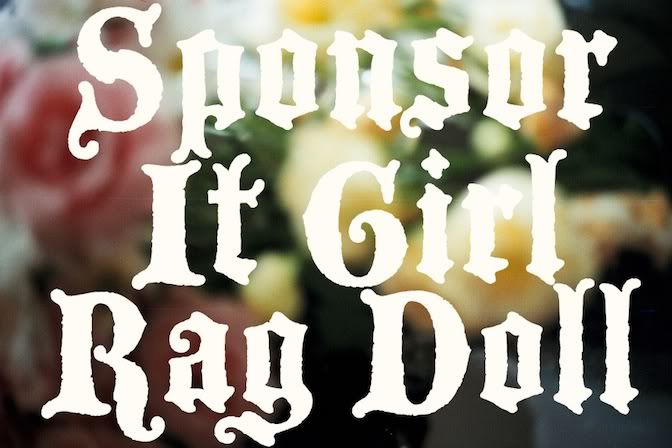 Thinking about sponsoring It Girl Rag Doll? I would love to partner up with you to help spotlight you and your shop, blog, or anything you might be doing creatively, there is a great big movement happening based around vintage and handmade and a community is ever growing. I love being a part of that an helping you to further your connection to that community.
For the lovely price of $25/month there are many things I can offer you! A 200x200 banner on the right side of my home page will be there all month long, linking to your desired corner of the interwebs. As well as a spotlight post where I will ask you a couple of questions, favorite fashion era, what inspired you, things like that. And we can do any number of these things below:
- A discount code to my readers for a week long period, how much is up to you.
- A give away of credit to your shop, again the amount is up to you.
- Send me an item from your shop, I will style it in an outfit post and then give it away!
- If you have an idea for your spotlight post, I'm open to your ideas!
Blog Stats:
-11,723 page views a month (month of June)
-281 followers via Blogger.com
-180 followers via Bloglovin.com
-400 average page views a day
-Top readership from US, UK, Canada and Australia
Shoot me an email if this sounds like the offer for you!
emilyrtheobald@gmail.com
**Please note: Although I would love to help out everyone, blogs and shops that should apply for a sponsorship position should be relevant to things posted here on It Girl Rag Doll and similar in style to what my readers come here for. I don't post just anything here, I like to keep my content and ascetic somewhat on the same page as well as having a clean fresh look. So please do submit yourself, but who I choose to sponsor is up to me. Thanks!!**