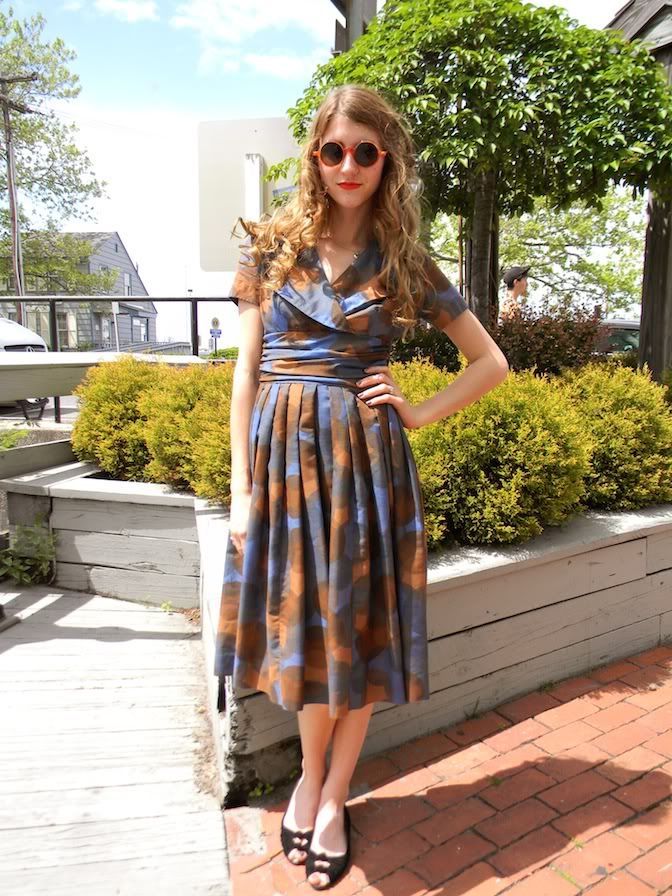 Went to an estate sale today, an amazing one! I ment to take photos, but I was a bit overwhelmed. I didn't get everything I would have liked, because things were a bit pricy, and I only had $40 to spend. But I did get a really beautiful dress.. it needs a bit of work but I love it. And there was a lot of great clothes, all original stuff in the house, great wallpaper. Ya know, a dream house. After we stopped by this town on the north shore to get some Ralph's italian ices and just hang out and take in the beautiful weather!
I got this dress at Beacon's Closet the second time I traded there. While I was trading, there was a girl next to me was having her stuff looked at, each thing more amazing then the next! I grabbed two things out of what she was traded and ended up getting them, this dress being one. The other is this amazing Christian Dior peach cropped top that has an open back and a big bow at the waist.. you can probably see it in an outfit post from like a year ago, but I don't feel like digging. But this dress... I love it! And I hardly ever wear it for some reason.. But I busted it out last night to play a few rounds of poker with the boys. And then I threw it back on today cause it just felt right. I think this dress is staying with me for a long time.
These cute shoes were just given to me by my friend Courtney, she didn't quite wear them enough and she thought I would like them. And I do! I don't have anything like them, and I hardly have any black shoes, so It's a nice addition. Surprisingly comfortable too!
Tonight we are having a little going away thing for Jeremy, since sunday is his last day working at our store! There are a few traditions that happen when people leave Trader Joe's.. like getting your car plastic wrapped, usually with a cart or two in there, or balloons when we still gave them away to kids. and stickers on top of that (never stickers on the actual car.. it has happend.. it wasn't pretty..) you usually get a cake or something, and then a night out at a bar or whatever. Used to this place John Harvards right near our store, but I dont think they like us there anymore haha. Sorry I went off on a tangent there.. yea so tonight will be fun :) Hope everyone out there is having a great weekend!! June is almost here, and exciting things this summer await!