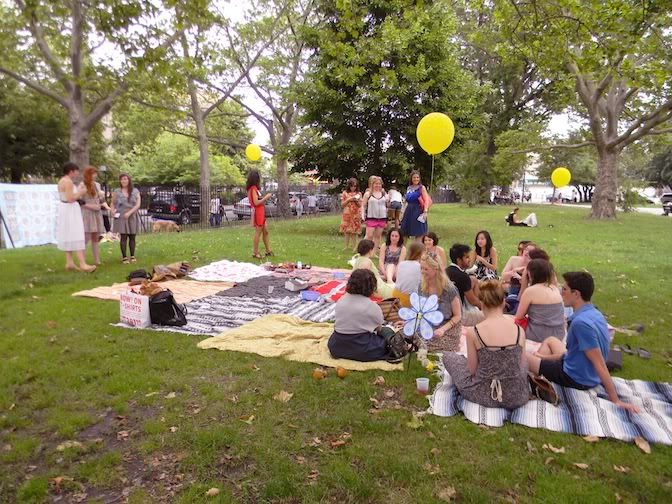 So saturday was the NYC & Philly blogger meet up at McCarren park in Brooklyn. This first photo here was the only one taken by me.. I'm so bad at breaking out my camera sometimes! But this photo only shows like half the people who came, it was a pretty big gathering, it was just perfect!
I came in a bit early to grab some bagels and coffee with
Anna Li
, (the one behind the rest of these photos) she's the lovely lady that shot The Loved One's
video look book
and since then we got to know each other online a bit, and so we became fast friends when we hung out allll day saturday. Then Liz from
Olive, My Love
came to join us before heading off to McCarren park. I don't know why I didn't know this lady before, or how we could have not hung out before, she's so funny and sweet. And she makes funny faces like I do, she was super down to earth and I'm sure once I move to Brooklyn she will become a regular fixture in my life :)
Then we made our way to the park, about 10 girls were already there with a bunch of blankets all laid out. It looked like the nicest picnic around! I brought some yellow balloons with me to help others find us, it's a fairly big park. There was snacks for munching (trader joes!) and some spiked punch for sipping. Veronica of
Tick Tock Vintage
made cute name tags for everyone to wear with their name and blog name on them. Hannah from
Heart City Vintage
was there too, we had been corresponding a bit through email since she invited me to this get together, so I was excited to meet her. She was really sweet, just how I expected, come to NY again some time!!
I got to meet a really great Long Island blogger names Kallie, she writes a blog called
Happy Honey and Lark
and I as so so happy to meet her! I never come across any bloggers from LI, and out here it's hard to find cool stylish people. I don't know why her and I have only met now.. I can see her becoming a good friend, and she lives so close! Ah, the wonders of the blogosphere! Another lovely lady who I ended up spending most of the day with is Alley, who writes a
blog
which is pretty much just inspiration stuff. But she also has a dream job and works for Stylelikeu, shes got amazing vintage clothing, and shes smart and funny. I knew her in real like before this meet up too hah, we met at Hannah and Landons christmas party (also where I met friends Wray and Annie who I mentioned in my Ambit trunk show post) but that was the last time I saw her. Once again, a wonderful lady I hope to be seeing more of once I make the move.
Okay, I'll try and wrap this up now, at around 5 the party started breaking up, after that Anna, Alley, Liz and myself hung out for quite a while, this brooklyn walks thing was going on, like a street festival, so Bedford was all closed off with vendors and chairs set up. We grabbed a table and just talked for a while. It's amazing how conversation is never ending with these fashion girls. Yay for finding girls with stuff in common! Then we went uo to Anna's roof, the best roof I have ever been on! Pretty close to the water, amazing view of manhattan, spend another hour up ther talking. Then went to get food at Pop's and talked for an even longer time haha.
Thanks so much for everyone involved with making this meet up happen! We need these more often, or at least twice a year. I expect to have another in september come fashion week. Girls from all over are in town then, I went to the one last year and it was a blast!