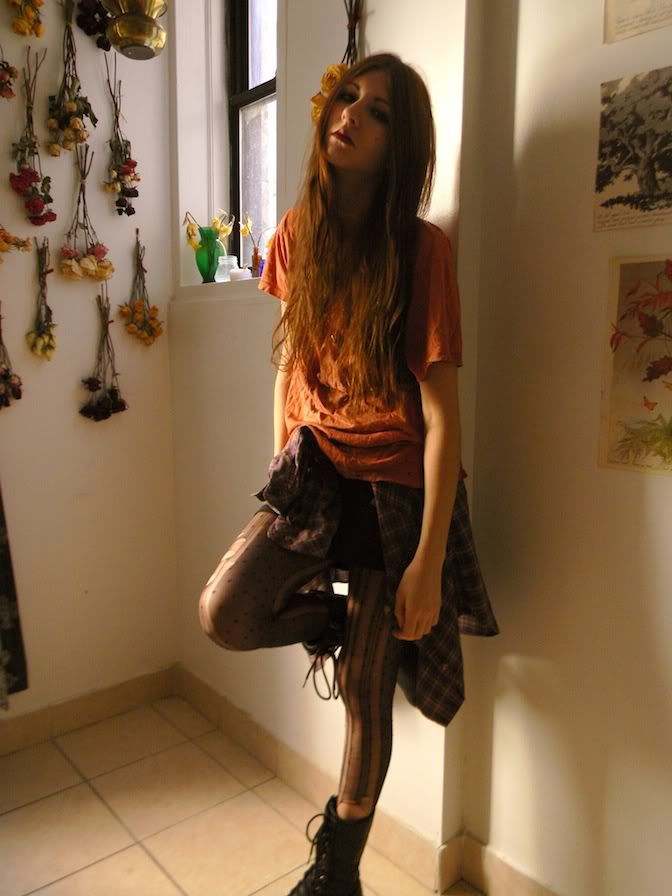 Another friday, another theme! I really do love this day, gives me a chance to really change things up a bit and wear something I wouldn't wear otherwise. My first inspiration for this look was Liv Tyler in Empire records.. but first I didn't have a good enough shrunken sweater, and second I realized she's just more of a 90s babe rather than 90s grunge. So I thought I would try to go less pretty than what I am first drawn too and look a bit more disheveled.
This ripped tee here is one of my favorites, I don't wear it too much, as it's not really my every day look kind of thing, but it's awesome. I pulled it out of a pile of leaves and "garbage" and other junk at this awesome estate sale I went to over a year ago. It was in this crazy beautiful old house that was falling appart, but I got some good stuff there that day. It was already ripped a bit, but I definitely helped the process with wear. I also added some studs to the pocket last year, thought I would try to look more mad ass or something. The flannel is thrifted from last summer, and the boots and black mini skirt are from Beacon's.
I painted my nails this neon green/yellow color last night, for some reason it felt grunge to me haha. I need to get back into painting my nails now that I don't have some sort of nail stickers on for a long period of time. I'm telling you guys, those things are awesome. They last as long as they promise, real easy to do, usually you can get two sets out of it if ya do it right, and ya get a billion compliments! The Kiss brand ones I most recently had on with the little gems, I would get total strangers on the subway complimenting them and asking all about them. People on the NYC subway try to avoid eye contact and human interaction at all costs it seems, so this it big people!