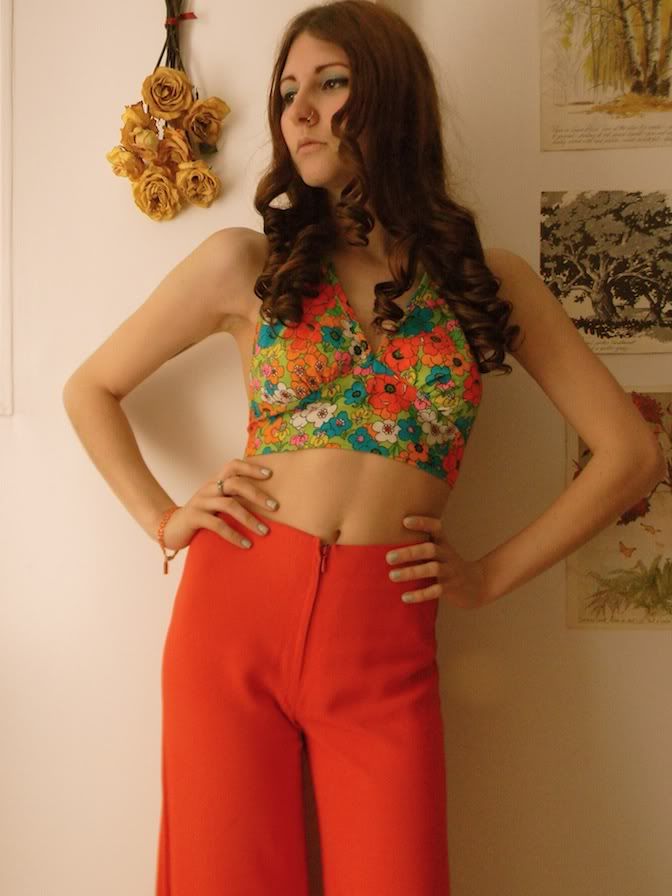 Boy do I love these theme fridays! Especially when the theme is something like this! I pretty much feel like I would wear this any day of the week anyway. I just got this halter top from work recently and I have been dying to wear it. Now that I have been there a bit the girls kinda know my style, and sometimes when your off a day of two ya come back in and they have put something in your holds bucket. This was one of those things I came into one day and I could not have been happier! I feel i'll be wearing this quite a bit come summer.
These awesome pants I mentioned on here once before. I wore them to work one day but didn't end up taking outfit photos that day so ya didn't get to see. But here they are! I got them from Donnaland in St. Louis, pulled these beauties out of the rags! I love how full they are, but fitted where it counts. Also pants without a waist band are always nice, leaves room for eating a drinking! I also got some killer platforms on from Blowfish that I got at DSW last summer I think.
Oh and another thing! I finally got me nose ring put back in! For the last year I had this clear glass post in cause I had to get an MRI last March. And for some reason I just left it in there.. But recently I had been really wanting the ring again, so yesterday I went down to St. Marks in the city and got this baby. Glad to have it back!