cardigan and flannel are thrifted, jeans are levi's, belt is my favorite from h&m 10 million years ago, and the boots are from target.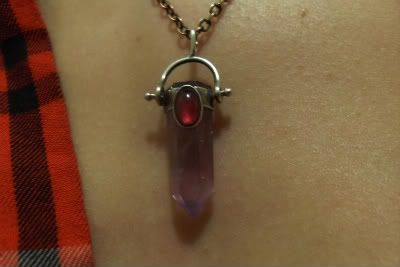 this is the necklace i always wear. it was my mother's she's had it for years. well actually iv had it for years, in and out of the jewelry boxes that iv had over the years. honestly i'm surprised i still have it after so long. but i'm glad i do. i think it's beautiful.
so once again, i work at trader joe's. its a really great place to work with some really great people. last night a manager i work with rented a studio space for a few hours for all the tj's crew who play instruments to go and just jam. i unfortunately don't play in instrument but my friend (well a little bit more than a friend) jeremy plays guitar very well and he was going and he invited me to come along. i brought my laptop so i could edit these photos actually. i figured i would sit on my computer and go online if there was wireless (there wasn't) and just do computer stuff. listen to the guys jam and take some videos and such. and thats exactly what i did. we also brought some beers along, and since i was kind of on an empty stomach i got pretty drunk!
i had a really good time though. i couldn't hear anything afterwards, but it was fun. only like 3 other guys came out, but they were all really good so it was fun. i need to watch what i recorded, you probably cant hear much cause it was so loud, probably too loud for my cameras little speakers so if i got something good ill post it later.
and heres just a shot i took of the collection of incense jeremy and i have going. we like to burn it a lot.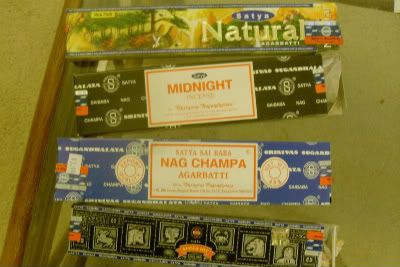 natural, midnight, nag champa, and super hit.