A while back i did wardrobe for my friends short film he was making. I got most of the clothing from thrift stores, one things being an AMAZING Elie Tahari white blazer for the character "International Mom" who was suposed to be a hard ass gangster type, outfit inspired by this Gucci S09 look: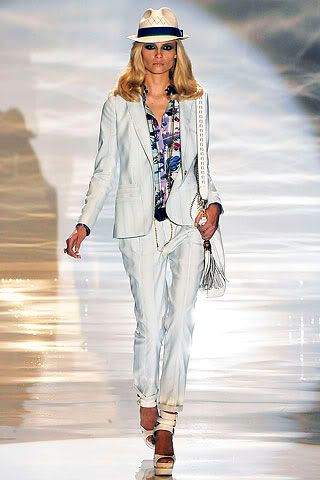 And when I found this jacket (which also comes with a pencil skirt, with some very nice pleated slit detailing) I thought "Well I definetly have to get this, its great for the character, and i can wear this after wards!" It was only something like $10 so it was really a great find.
However since using the jacket in the film, it had been sitting with other costume cast-offs in a bag in my trunk. This was months ago, and i suppose i forgot about it. Or kind of knew it was in there but was just too lazy to open my messy trunk. But since getting in my accident i have to clean out my car, so the jacket is now in my possesion, and iv tried it on last night and its even better than i remember.
I remember when I was interning at Marie Claire last spring the woman Abby who i worked for was in love with and eventualy bought this while 3.1 Phillip Lim jacket, and this one also reminds me of it. What i'm trying to get at here is, this was a great find and i'm happy.