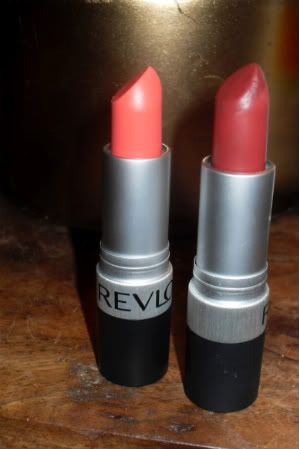 I have many new years resolutions this year, more than maybe I have had before, but I am very determined to keep them and really change things about myself that I think need improving.
One of them is to wear more lipstick. I never do, I don't think it looks quite right on me most of the time. I have tried the bright red pout like many, but I just felt it didn't look natural on me.
Yesterday i went to Target (has to be one of my favorite store ever) and picked up 2 tubes of lipstick from Revlon. Its a matte lipstick which i really like, i hate the shimmer and shine thats put into many lipsticks, and I think is one of the reasons I don't usually go for a colored lip. Matte lipsticks I also feel last longer. They dry sort of, staining the lip and making wearing it easy. Or make it not rub off which makes it easy to wear.
I got 2 colors, Wine Not and Pink About It. I absolutely love the dark plum red of Wine Not. I wore it all day yesterday, so I haven't even gotten to try out my pink color, but I kind of wanted to save that for spring anyway.
And heres Wine Not on me!