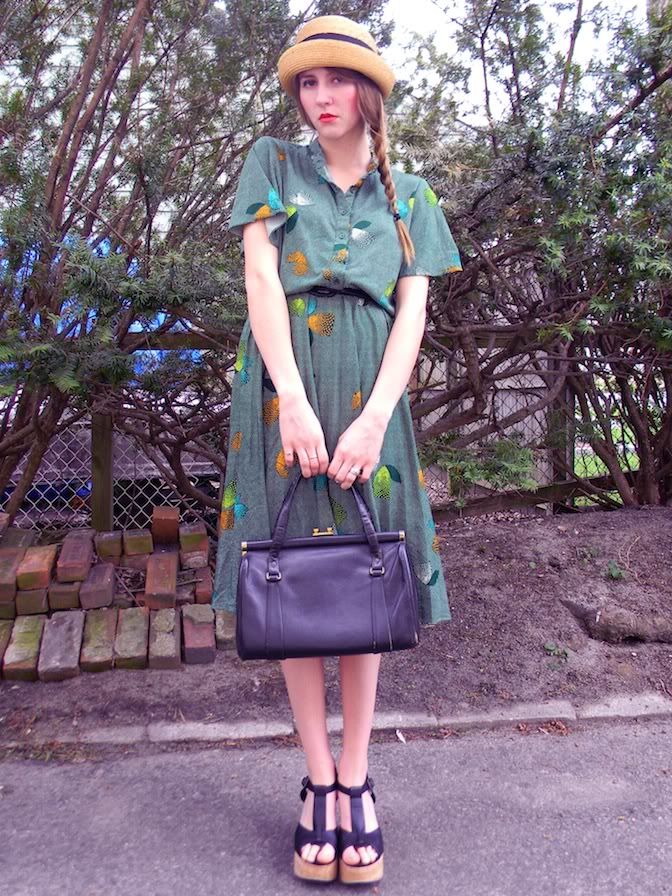 I would have liked the title to be june gloom, sounds better.. but it's still only april, and gloomy even so! It has been rainy and cold and cloudy here the last couple of days which has kept me away from the outfit posts. I like to actually wear my outfits out, and if I were to post anything these last couple of days, the clothes would have only been on for the photos, as i'v been working a lot and the outfits I have been thinking up aren't quite appropriate for this weather. Even today is overcast.. But I have the day off and I plan to make something of it! The overcast sky actually makes quite nice light for photos, so all is not lost.
I got this hat in the mail earlier this week from the wonderful shop
Little Deer Vintage
run by the lovely
Taylor
who's blog I have been quite the fan of for a bit now. We worked out a little trade for this baby and I couln't be happier. I have thought up a billion outfits around it already.. if only the weather would brighten up!! This dress I thrifted last week and will be making its way into my
shop
in due time. The belt is thrifted and the doctors bag is from an estate sale, it's so great! The handles might be going kind of soon, but It was a lucky find! I just got these
"Garren" Blowfish wedges
from DSW the other day. It's funny cause I had been eyeing them online for a bit, then I decided to stop in DSW on a whim to see if they had any platforms, and there they were! I am definitely going to get a lot of use out of these this summer!