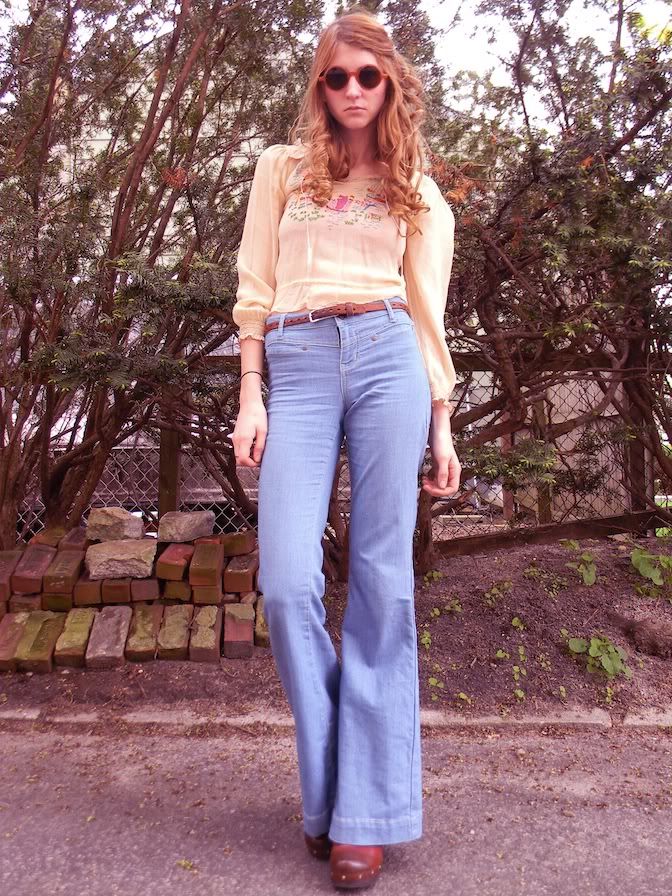 This is what I wore today to go thrifting. Saturday my boyfriend and I always have off together, he would have joined along but hes coming down with this chest cold that I had last week. Woops! It was so nice out today, it's a shame he didn't get to come with me, although he's not as into old things as I am ;P
I got this shirt from
Ali
, I went over her place on thursday to help her with shop photos, and she had TWO of these wonderful blouses, this one a bit more stained then the other. So she sold it to me for a good price. (it's twin will be in her
shop
soon!) I tell ya, having a best friend who also sells vintage is the best thing. Just sharing our own clothes is fun, such a shame we are totally different shoe sizes though! The pants are from f21, and the clogs are thrifted. The belt used to be Ali's too, that she gave to me. And the sunnies I got at Buffalo Exchange when I went last week.
I spent most of the day cleaning, I have been living here with Jeremy since september, but never quite got around to decorating our bedroom. Or more like re-decorating, since Jeremy already lived here.. and didn't do too much with the space before I came along. This is mostly because our bedroom is this constant battle of trying to keep it clean.. it gets kind of our of hand. We are both kind of clutter bugs and hoarders (for me it's clothes and knick knacks, for him it's books and band tee shirts) so the room we just kind of closed off to the world and just went into to sleep. But no longer! I made quite a bit of progress, and I will try to take photos to show it off soon! Spring cleaning is the best!
Also, enjoy some lovely photos of the flowers in my front yard! Everything is so colorful and green around here, hope spring has hit wherever you are!