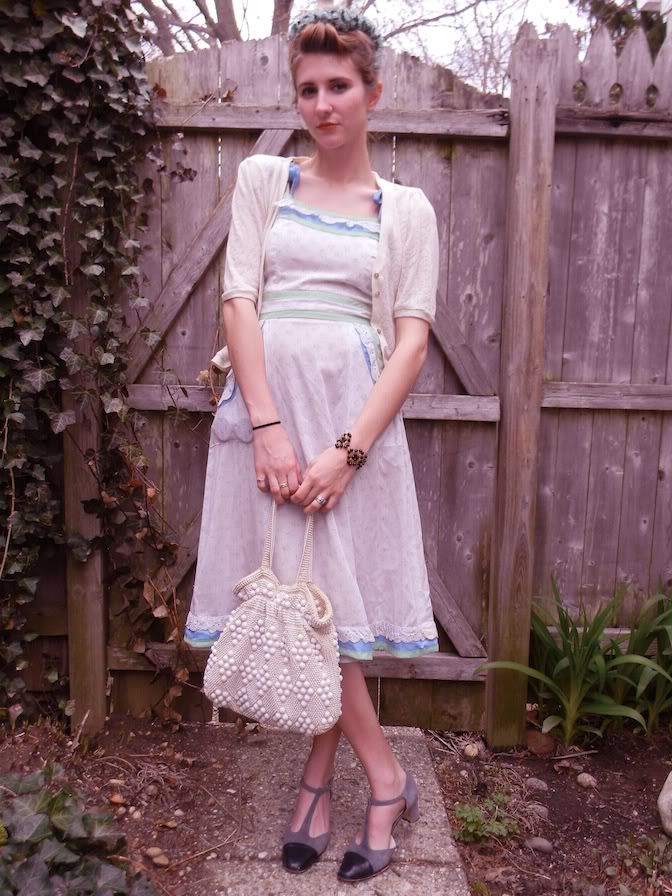 Easter sunday, what a nice day. This year we had beautiful weather and I had plans for a nice easy relaxing evening at my family's house with just my parents, brother, sister and jeremy. Oh and my german cousin and his girlfriend who happen to be visiting at the moment :) My mom made some ziti and meatballs, we brought the Bluepoint beer (from right here on Long Island, don't ya know!) and the apple pie. It was a very non-traditional Easter, hah! We sat out back drinking and talking and eating. My little sister was playing with bubbles, the huge kind that make a huge snake like bubble. A very nice sunday.
I got this wonderful little floral hat at an estate sale from a few weeks back. It's pretty much made to be worn with your hair up, and I had been waiting for the right time to wear it. I got this dress on thursday when I wet to Beacon's closet. They didn't end up taking too much of my stuff for trade, not enough summer goods I suppose. But this dress was only $15 "as is" cause of some stains, but you all know I don't mind a stain or two. I really love this dress, it's so angelic and I love the colors and the pockets. This wonderful bag I got from this weird house in the town I grew up in, it's one of the oldest houses in town, and in the backyard she had this second little house/shack thing. It was falling apart kind of, but it was like a little antique shop she ran back there. No one ever really went there, and I only found out about the place a few years before the woman passed and that shack collapsed (and I have no idea if anyone ever salvaged any of the amazing things form inside it!) but you would just kind of pull up and go back there and the lady would sit on her back porch and wait for you to bring out what you wanted and she would give you prices. CHEAP prices too! She was real nice and I got this bag there among lots of other things back in the day. The shoes I got at the salvo last year, perfect perfect shoes! And he little short sleeve sweater is h&m, and the bracelet I picked up at savers yesterday.
I hope the wether was nice for everyone, wherever you are! And that you had a wonderful easter with friends family and foooood!!!