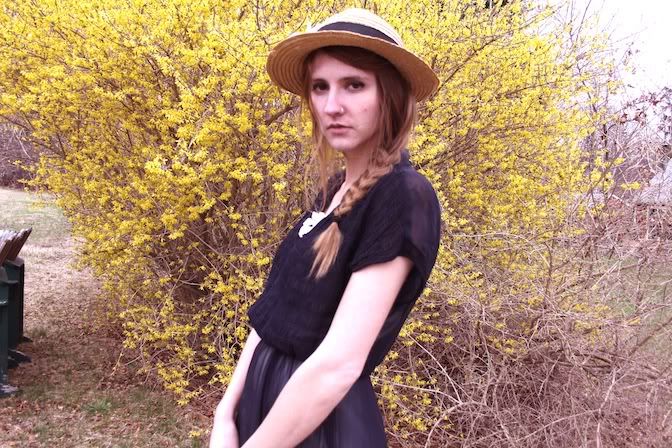 This weekend Jeremy and I drove up to western MA for a nice weekend with some friends. The only reason for the trip really was because I ended up not having to serve jury duty and so I was able to get away for a bit. Also we all wanted to go dancing and theres this really great place in Northampton called the basement that plays 50s, 60s, and 70s music on Saturday nights and its amazing! Seriously, the best music to dance to, I don't want to shake my booty for anything else. And believe me, I shook it hard, all night ;)
So the weekend pretty much consisted of delicious food, vintage selling (well trying to, there was a craft fair/flea market thing that was going on.. turned out we were the ONLY vendors that showed up.. and we were the only ones who ate the free vegan cookies we made for our vintage loving customers that never showed..), vintage buying, Extravaganja (a festival to promote the legalization of marijuana, which is already decriminalized in MA.) and dance dance dancing! I always enjoy going up to visit Courtney and Chris, they open their home to us, show us a great time and fill our hearts with love! It's a bummer that so many of my great friends live to far away. Well, 3 hours ain't bad, but I wish we could go out dancing every saturday!
This is what I wore on Saturday morning to the "craft fair", I have had this dress for some time now, and this was my frist time actually wearing it out! And it made me fall in love with it all over again. The slip underneath I got from the lovely
Kennedy Holmes etsy shop
about a month ago, I think it goes so well with this dress, the way you can see the detail of the slip through the skirt. And sorry I'm wearing these shoes and this hat again.. This is the way I am with almost everything (music, food, clothes..) I fall in love with it, I listen to/eat/wear it every day and then I move on. Like right now I cant stop listening to Sleepy Sun, I keep eating sandwiches, and this hat and shoes are on me every day! I suppose this blog is turning into a how to wear one thing over and over again in different ways kind of place. But thats cool right? At least I'm getting my moneys worth!