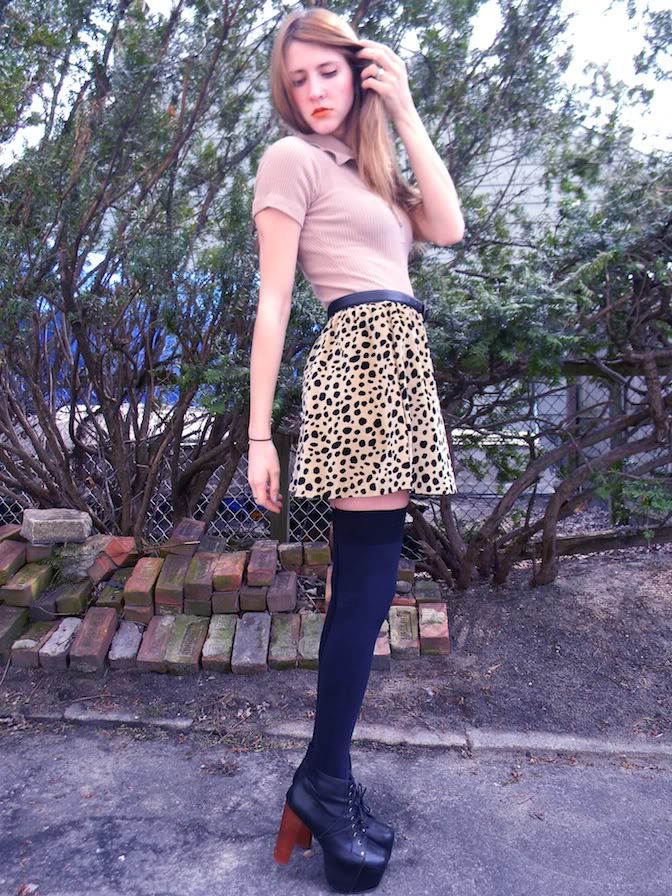 I didn't wear this outfit today, well I did, but just to take these photos. I wore it saturday night to go into brooklyn to go out with some girls I internd with at Marie Claire. Tania is from Canada, and came to NY just to see us! She does this every so often and its really great when she does! She was a jewelry intern and was kind of stationed over by where our inventory files were, so we got to talking all the time. Then we became super close, as a lot of the girls were really bitchy and back-stabbing and whatever. Lyz was also a cool babe, we both internd under the same fashion assistant, and we became fast friends! Shes from upstate NY but has been living in brooklyn now for a couple of years.
We went out and got some delish sushi and then got drinks and went dancing! I forget the name of the place.. I think its called the cove? It was pretty cool, I didn't drink too much, I'm not too big of a drinker, But I don't need that to dance my buns off. Which is what we did. They had a fog machine and this really cool lazer green lights that shot through it, really fun stuff. By the time we left the place was PACKED with people dancing. I love that. I don't go out very often at all, so Lyz left a bit early with me, I also had to drive back home after that so ya know. I just like to be in bed with my boy and two cats :)
This top, which is actually a body suit that snaps at the crotch, I got at the second estate sale I went to on saturday. I had intentions of selling it, but once I tried it on and it fit like a dream, and the color was so right, I decided to keep it. I don't have anything like it and I feel like I can pair it with so many things. The same day I got two etsy purchase packages in the mail, this skirt being one of them. I had been eyeing it over at
Owlephant Vintage
for a while now, and then one night I just broke down and bought it, and I'm so glad I did, it's this awesome velvet fabric and I really love the print. Almost leopard print but not! I put together this outfit right after I got them, had to wear it out ;) The tights are from american apparel and you all know the shoes.