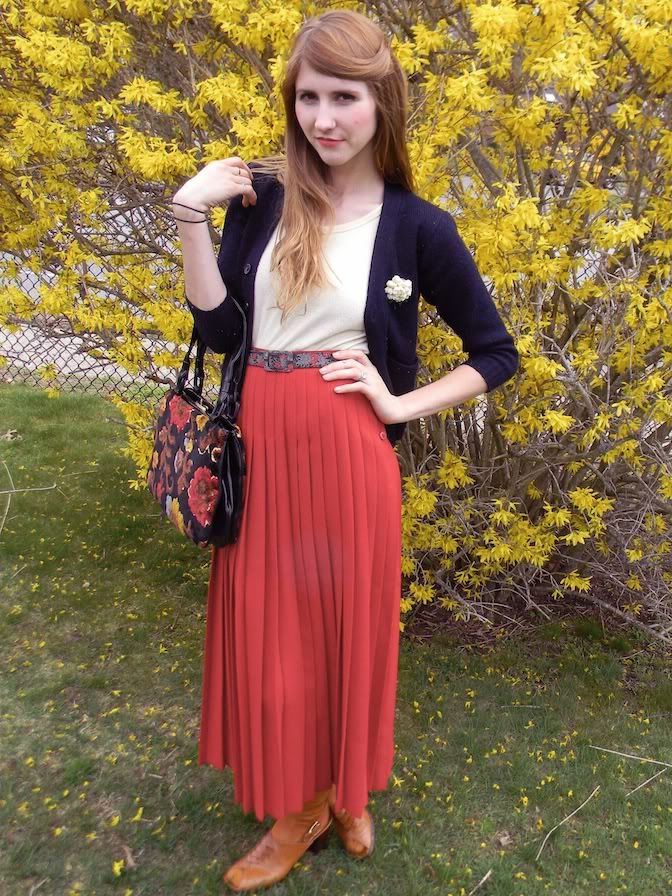 Today I was suposed to work at 4am, but the last couple of days I'v developed a cough, and this morning I woke up feeling really miserable so I took the day off! After a good few hours of sleep and some tea I was feeling a bit better, and thank god I wasn't at work cause it turned out to be beautiful out! And all next week is supposed to be a mix of sun and rain, but all in the 60's or higher at least!
This LOVELY red pleated skirt I got over the weekend in MA, and I am just in love with it. I love when I can find vintage thats really well made. This skirt is really nice and structured, the closure is a line of buttons and at the waist band theres like three hook and eyes in different spots to make sure it lays totally flat, really well made stuff. And the color is perfect. The light yellow tee and the dress socks I thrifted at Savers yesterday (theres I think two on Long Island now, just opened this year! never had one before.. although they dont do 50% off tags like the others do.. lame!)
The navy blue cardigan was also thifted, from the little boys section! This wonderful tapestry bag I traded with Courtney over the weekend, it was in her shop,
Light Witch
and when we were trying to sell our goods over the weekend I fell in love with it. So she got a dress from my shop, and I got this baby! The colors just happen to match this outfit perfectly too! The shoes I got on etsy from
Tialey Vintage
some time last year and this was my first time really wearing them out! I have a lot of shoes, I need to get a better rotation going. But I have a lot of everything in my closet, I was cleaning and organizing a bit today and somehow I now have over 25 skirts!! And I even eliminated a few to try and trade at Beacon's closet tomorrow.. I think I have a thrifting problem..