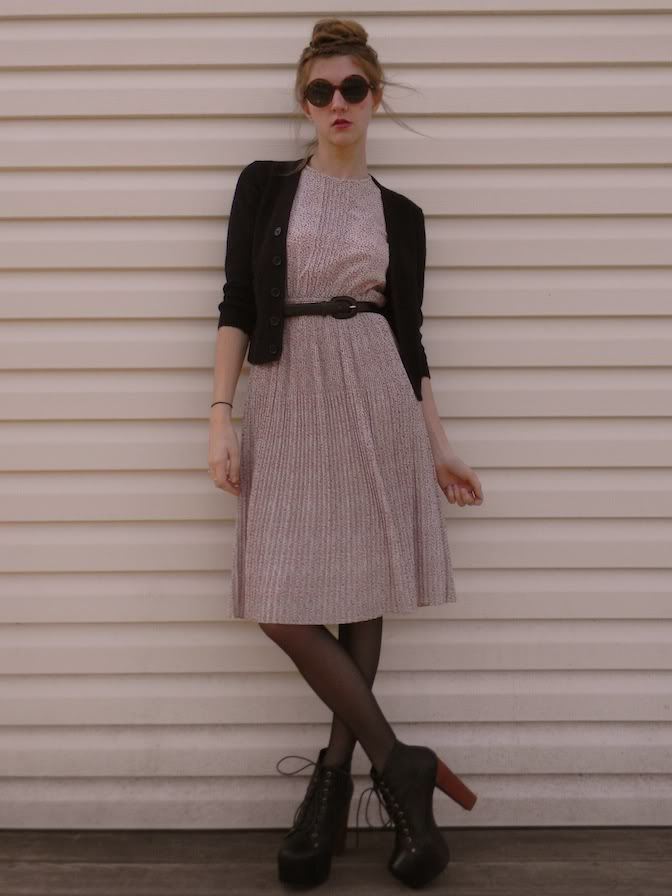 Just wanna say you are probably going to see these shoes in like every outfit post this month. I just want to wear them all the time, they are so much fun to wear, with the height and all. And since they are black, they pretty much go with everything! Even my vintage dress here, I just got this pretty baby on Wednesday at Buffalo Exchange in Brooklyn. I was trying on another dress that your going to see here soon when the cute girl working the dressing rooms was like "I see your trying on vintage, you might like this too!" and I did! I cursed her though because I didnt really have the money to spend, even though it was only like 12 bucks, and the other dress I was getting was the same price. But I was still happy she showed me. This is how I justify things!
It's hard to get all the detail here, but this dress has a whole lot of pretty pleating in different widths. The floral is really tiny and white with a blush pink background and tiny marigold flowers thrown here and there. Very pretty, really comfortable. It's the kind of dress I feel like I can dress up and down over and over again. I threw this navy blue little boys cardigan on over it just for the photos pretty much. The sun is warm and shining, but there is a chilly breeze today and I didnt want to freeze!
The belt is thriftd, the tights are thigh highs from god knows where, kept up by The Loved One's
"The Bed and How to Make it"
! Such a fun undergarment to wear, it makes me feel really fun knowing I have this pretty thing on under my dress. I just got these sunglasses in the mail from
Vintage Eyewear 101
on etsy. I haven't had really big frames like this in a while. In fact, I haven't had any sunglasses in a long time. I lost my best pair ever back in the fall and I have been in denial since then, just squinting at the sun as I drive around. I wasn't too sure if these were gonna fit my face right, but I think they are pretty great!
Today is Friday, and Jeremy and I both have off! we are going on a lunch date to Panera and then out to ACE hardware to get some things for hanging a coat rack and shelf. Then tonight Jeremy's band has a show, then a friend is having a party.. so pretty busy day!
Oh! And as far at the title of this post goes, according to a group on facebook, today is Cat Day! I think you are just supposed to be all about cats today. I was going to wear a cat brooch, but the pin was being all weird and I dont want to loose it, so that was left off this outfit. But you all know I love cats!