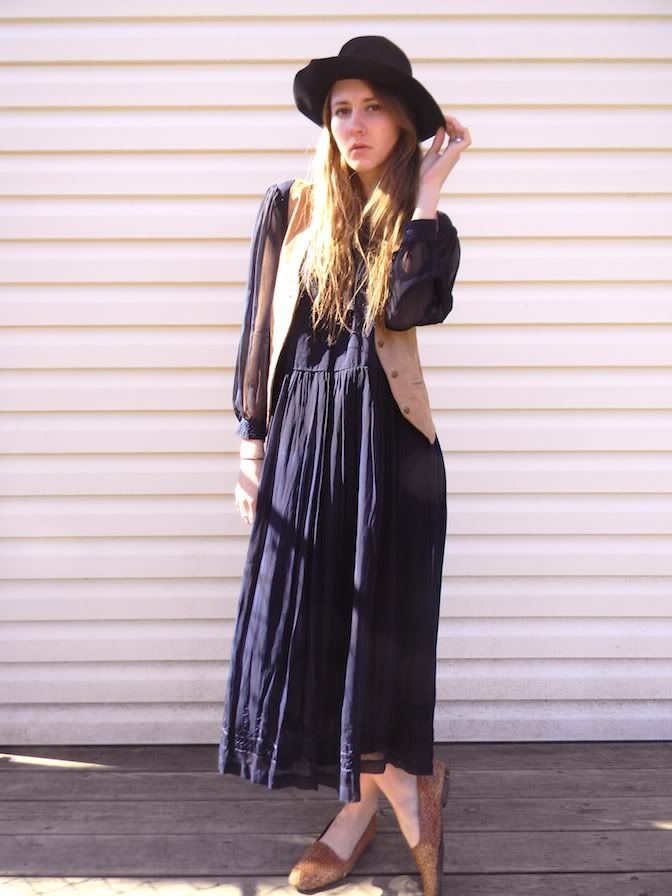 So today I don't work until 5 tonight, and until then I don't really plan on leaving the house (unless I can find someone to go to
free pancake day at ihop
with me!) so todays outfit is just for comfort. I plan on finally hemming a pair of my mans jeans for him, and maybe cleaning up the bedroom a bit. I also plan on making some really delish goat cheese raviolis from Trader Joe's for lunch after I finnish this post!
This dress I thrifted like two years ago with intentions of just using it for Ali's photos, as seen
here
in Ohio two summers ago. As well as
here
in Fall of the same year.. and maybe a few other times here and there it has been brought along on photo shoots just in case. But it's been hanging in my closet now untouched for a bit, and when I bought all new hangers for my closet and was forced to go through my entire wardrobe, I decided I might want to wear it some time for real. I'v really been into longer hem lengths recently, and the sheerness of it is nice, and the color.. well I think we all know by now this is the color I wear every day now.
So this is just sort of a test run of the dress, I think I will get a lot of use out of it, finny how I'v had it for so long but it feels like something new. These shoes!.. these are my most favorite. I got them at a regular thrift store of mine probably like three years ago by now, and then I did they were never worn stiff leather. I guess this was like summer 08? Shoot.. maybe even 2007? Wow I think it is 2007.. can't believe these are still around. Sorry that was totally the through process in my head. Haha!
Yea, so 2007, wore them out to a bar one night and they felt pretty comfortable. So them I decided to wear them to the city later that week to see She & Him and did a whole lot of walking. KILLED my feet. No joke, we saw them at Terminal 5 which is in like the 50's all the way on the west side, and at the end of the night I was walking barefoot back to Penn station. But then my feet healed and I got to wearing them in a bit and then they were the most comfortable things in the world! They are now so loved and worn so many days on end that they are falling apart. Whenever I wear them my mom says they bring down my outfit. But whatever man, I love them. I really do need to replace them though, I know there are other woven brown leather flats out there. I search on Etsy now and then.. but nothing ever measures up!
As for the rest of this outfit, the black felt hat is thrifted and fits me perfectly! I have kind of a small head I guess, but this one has the best shape and is nice and snug. The leather vest is thrifted as well, it's a child's I think, got it at this church thrift store I went to more often when I was in high school. See, this is why I love thrifting, everything has a story, sometimes perfect things find you and they stick with you for years. Almost everything I'm wearing here I have owned for at least three or four years, they come in and out of my style, but always stick around. Until maybe one day I want to pass it on either by selling, donating, or handing it down to friends or my sister. What's so fun about having the story of your clothes be "I got it at the town mall!" I love the endless possibilities of it and of corse the thrill of the hunt!