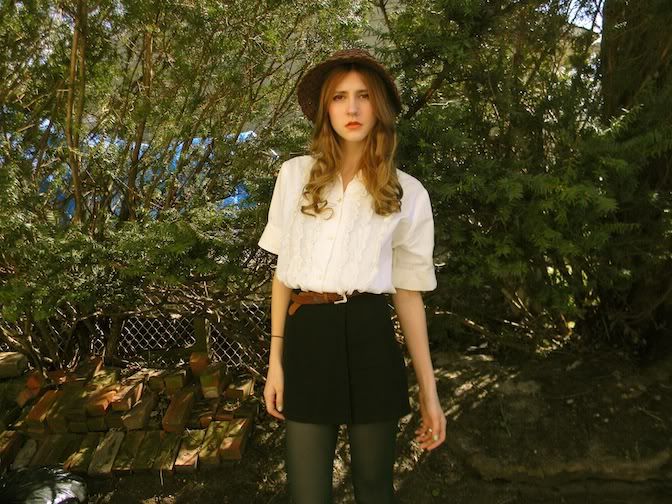 Sorry I went a bit overboard on the photos here, the weather turned out to be so nice today and I was really digging the way these photos were coming out in the sunlight. I woke up this morning to snow on the ground! Not too too much, but a small coating over the trees and grass. But by like noon it was pretty much all melted thank god! I'm super ready for spring, down with snow!
I went to Palmer, MA this weekend to visit some friends and go to what I thought was going to be some kind of Neutral Milk Hotel band collective thing, but turns out it was a bit different than I thought. It was Elephant 6, which is the collective where Neutral Milk Hotel stems from, some of the band members were there.. but no NMH was played ;( I was pretty bummed, really wanted to sing along to some of my favorites, but it was still a cool show. Also any excuse to go see Chris and Courtney is great!
I'm wearing two things here that I got up there this weekend at an indoor flea market, first off this hat! Recently I have been on the hunt for more hats, something with a brim but not too big, more like this! And it was only like $6 then 30% off! I wore it all weekend and I'm still wearing it all over! This white blouse I also got there, I also got two other really pretty white vintage blouses.. but then I got home and tried them on and .. oops! I love them all! I think I will sell maybe one or two eventually, but for now I'm gonna see if I can get a wear or two out of them before passing them on.
The skort, belt, tights and brown shoes are all thrifted, oh and the bag as well. I have never been a huge colored tights gal, but recently the pop of color has been drawing my attention. These ones I think I got for like 50 cents at the salvo a while ago and this is my first time wearing them. My favorite colors right now: forest green, purple, navy blue and sea foam green, like my nails!